Seven Upgrading Measures Help Longwin II of King Long to "Become a Winner" in the Market II
2017-05-23 Author: Source:www.chinabuses.org
Summarize: It is reported that as a new flagship-like product designed especially for high-end tourism, group activity and passenger transportation market, Longwin II further upgrades the customer value with scientific humane spirit as the core, boosts the confidence in Chinese high-end manufacturing through dual-mode development of full-process "DMD+KMP" modular platform, and enhances the customer's operating ability and confidence through comprehensive upgrading of product performances
www.chinabuses.org: It is reported that as a new flagship-like product designed especially for high-end tourism, group activity and passenger transportation market, Longwin II further upgrades the customer value with scientific humane spirit as the core, boosts the confidence in Chinese high-end manufacturing through dual-mode development of full-process "DMD+KMP" modular platform, and enhances the customer's operating ability and confidence through comprehensive upgrading of product performances. This is revealed in the improvement of seven aspects, including human-oriented aesthetic design, digital comfort algorithm, through-process safety technical guarantee, smart-cloud big data platform, fully adaptive power chain, easily maintained friendly design, and digitized cost performance. The brand always dedicates itself to maximizing the value for its customers.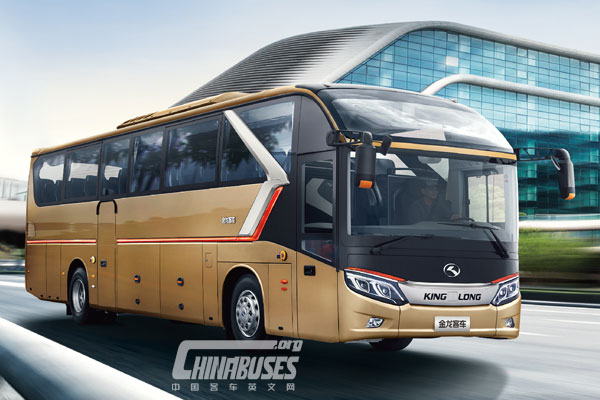 Reconstructing the comfort with digitized algorithm
In the last decade, with the rocketing development in high-speed rail and civil aviation, the road transportation trade is severely challenged. Against the new normal economy, consumption upgrade becomes the prevailing trend in all the industries. Quality instead of price can better satisfy the demand of the customers. This is especially true for the high-end group tourism transportation, for only the coach that brings in satisfactory experience for the passengers can be called a good coach.
As long as King Long is concerned, comfort is a sort of algorithm, because figures and algorithm know "people" better than themselves. Longwin II is redefined with figures. The 6-color ambient lamp and mid-door LED step lamp, 1.55-1.9 m adjustable headrest on passenger seat, 23 cm rotary step, 2.1 m interior standing height, reading lamp with AC outlet, Grammer driver seat with damping airbag, one-button lifting glass in driving area, and 60cm electrical equipment area in cab, every place of comfort that can be felt by the driver and passengers is digitally and accurately calibrated and optimized for Longwin II. In the meantime, the optimization of the engine's suspension performance and accessory consumption enables to reduce the internal vibration and external noise by 2-4 dB ; ZF is used to regulate the PVC damper performance so as to improve the coach smoothness by 3%; the optimization of steering gear box, front independent suspension structure, and accurately calibrated and matched EBS & ESC braking system stabilize the coach, greatly shortens the braking response time, and improves the steering reversal performance by 30% and steady reversal performance by 7%. In this way, better comfort and safety is brought to the driver and passengers.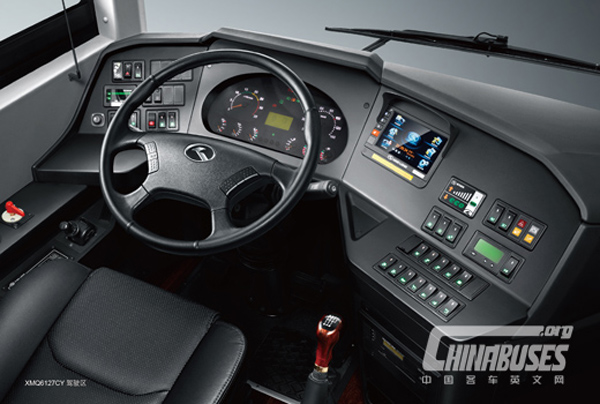 Full-process caring with safety technologies
Safety lies at the core of all design. Longwin II adopts the standard stricter than the national coach safety regulations. It takes 11 safety-improving measures, carries several advanced safety configurations in the industry, and employs thoughtful active and passive safety protection to eliminate potential safety problems.
The coach's braking safety is improved with multiple 3H high-strength circular structures, Q700 high-strength steel in passenger area, patented forward anti-collision wash-boarding mechanism, protective fender in line with EU standards, imported ABS + ECS, and imported integrated valve. Moreover, parallel hydraulic retarder is used to prolong the service life of the brake assembly. Such active and passive safety devices on the coach as forward anti-collision alarm system, lane deviating alarm system, uphill start support, smart reversing trajectory, automatic headlamp control system, 3D panoramic view system, self-adaptive cruise control are innovative "black technologies" that provide full-process caring with safety technologies.
Rendering management as "easy as a hot knife through butter" with smart cloud
As a future-oriented brand new model, Longwin II continues focusing on the car networking and automatic driving and utilizing the smart-cloud big data platform so as to better manufacture intelligent cars and provide smart solutions for the passengers and mass transportation.
On one hand, those smart and scientific devices installed on the coach not only improve the active safety performance but also bring in better economic and comfort. On the other hand, the smart cloud service with Long Wings car networking platform developed independently by King Long as the core part covers the real-time monitoring and early warning functions such as real-time operation monitoring, real-time working conditions monitoring, driver behavior management, drive state prediction, online positioning, speed limit prompt, online battery (charging/discharging) management, and immediate car state monitoring. This is one of the most advanced car cloud-side big data management platforms in the industry. It enables the users to exert timely car management through computer and mobile phone terminals so as to effectively satisfy the monitoring demand by original equipment manufacturer, transportation enterprises and supervisory authority and renders the car management as easy as possible and car operation free from any concern.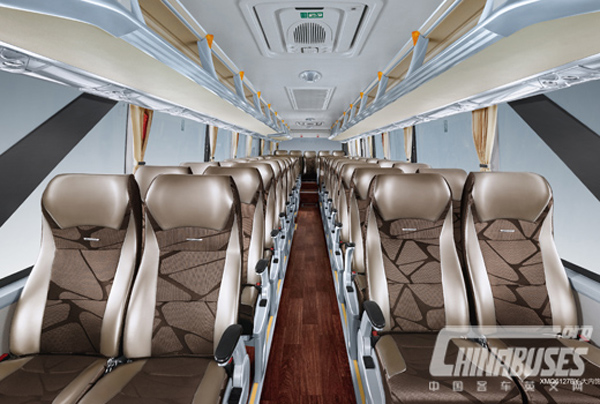 Full-adaptive power transmission chain around the world
Thanks to the full adaptability to the environment, the accumulated sales of Longwin in last decade already exceed 10,000 with users from all over the world. Longwin II further improves the performance of full-adaptive power transmission chain. King Long keeps cooperating with international professional engineers, learning after international well-known brands, depending on the big data from its smart-cloud service platform, and taking into consideration such practical conditions as car weight and axle load distribution so as to accurately calibrate the car's chassis system, standardize the parameters of airbag, damper and steering box, and strengthens its adaptability to running in different landforms and elevations.
The evolved motive power helps to form the full adaptability of Longwin II. The 60,000km-maintenance engine on the coach is matched with optimized gear box and axle so that it turns out to be the best among the engines of same level. Characterized by low-speed dynamic property and high-speed oil saving, the engine can also be adjusted to be driven completely by electricity so as to fully adapt to all sorts of road conditions and regions of different elevations.
Friendly design of easy-maintenance
No car can be called flawless in the world. How to ensure an easy maintenance is an important illustration of the people-oriented design principle of Longwin II. The smart visual power control system fixed on the car not only exerts real-time and dynamic monitoring of the electrical system's running conditions but also renders the maintenance very easy. Such details as separate electrical cabin with suspended wires, separated battery from electrical equipment, integrated installation of air inlet/outlet and air compressor, dismountable front panel + external windscreen wiper, subsided dismountable engine design, 500,000km maintenance-free grease-lubricated wheel end, maintenance-free battery system, highly integrated components and parts design, and 10W rear-compartment solenoid switch, illustrate the craftsmanship and thoughtfulness of Longwin II. The final target is to ensure the customers are spared from any concern and can always feel comfortable when using the product.
Re-defining the scale for measuring value of excellence
Car purchasing is never a one-time investment, for the later operating cost is higher. King Long, deeply agreeing with this idea, insists on improving cost performance by digitization. It prolongs the car's service life with 8-year rustproof overall cathode electrophoresis technology, exerts real-time supervision on coach conditions and improves the customer's operating efficiency with upgraded King Long smart cloud service platform, and adopts dozens of maintaining measures of improvement to make the car maintenance and repair more convenient so that the maintenance cost of the car within its life cycle can be reduced and higher operating value can be created for the customers.
It is noteworthy that as for the fuel consumption concerned a lot by the customers, Longwin II adopts CFD simulating optimization analysis and wind tunnel test to keep improving the wind resistance and thus cut down the fuel consumption. It also reduces the fuel consumption by 1-3% through upgraded engine heat management system and the car weight by 9.7% through the engine weight reduction so that the fuel consumption can be optimized. In addition, when calculated as per general maintenance, the engine maintenance cost of Longwin II alone can be cut down by RMB 42,000 in the full life cycle due to the adoption of 60,000km cycle maintenance combination.
The improvement of seven points in value originates from the new change in the market environment as well as the deep satisfaction of customer's requirements. Focusing on the development trend of coach in the future and driving the industry to keep going forward, Longwin II will represent "Intelligently made in China" to lever a most severe challenge to the international first-class coach brands and proves to the world that Chinese coaches excel in both sales and quality.
Editor:rachel
Related China Bus News