Sunwin Double Windshield Bus Delivery Ceremony Held at Haitong Port
2017-05-23 Source:www.chinabuses.org
Summarize:Shanghai Sunwin Bus Corporation made important achievement in implementing national "One belt, One road" policy and carrying out SAIC overseas strategy On May 20th, Sunwin held delivery ceremony with the subject "Gather to move ahead, Set sail for new journey——Sunwin Bus in 'One belt, One road'" at Shanghai Haitong port 122 units of luxury buses will be delivered to Kingdom of Saudi Arabia for Hajj 300 units of school buses will also be shipped to UAE This is just the beginning of Sunwin 2017 export batch delivery, a new and stable step in global market exploitation
www.chinabuses.org: Shanghai Sunwin Bus Corporation made important achievement in implementing national "One belt, One road" policy and carrying out SAIC overseas strategy. On May 20th, Sunwin held delivery ceremony with the subject "Gather to move ahead, Set sail for new journey——Sunwin Bus in 'One belt, One road'" at Shanghai Haitong port.122 units of luxury buses will be delivered to Kingdom of Saudi Arabia for Hajj. 300 units of school buses will also be shipped to UAE. This is just the beginning of Sunwin 2017 export batch delivery, a new and stable step in global market exploitation.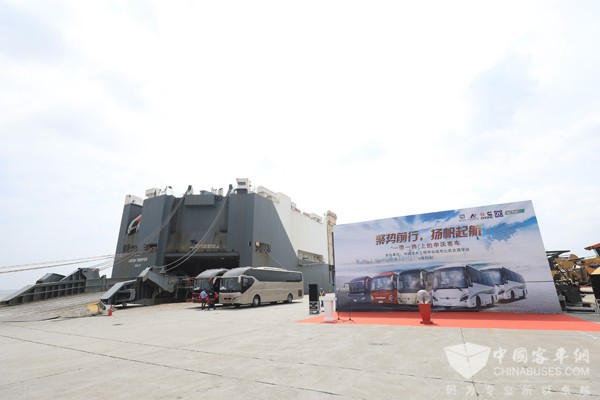 ​This ceremony is not only a great significance for Sunwin overseas market, but also a confirmation to China automobile industry and public transportation industry. Therefore these entities held the ceremony together, including China Civil Engineering Society Urban Public Transportation Institute, Shanghai Sunwin Bus Corporation, Dongfeng Turner Axle Co.,Ltd, Dongfeng Cummings Engine Co.,Ltd, ZF Transmission Technology (Suzhou) Co.,Ltd and ACTIA (Shanghai) Automobile Electronic Device Co., Ltd.
The double windshield model delivered this time is specially developed for middle east market by Sunwin, integrated SAIC and VOLVO technical advantage, suitable for tourism, city sightseeing and long-distance passenger transportation; strong power system, concise and vivid upholstery, elegant environment; double windshield design gives a broad view for passengers.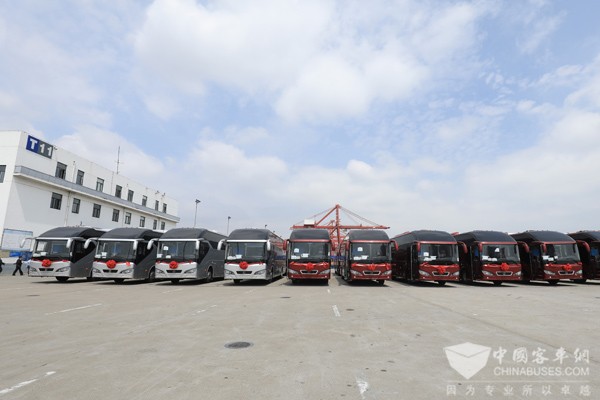 Sunwin export started in 2011. From zero beginning, passed 6 years, Sunwin now ranked top 6 in China export list, city bus export even got top 3 which is an excellent achievement.
For 6 years, Sunwin work steadily, one by one explored north America, middle and south America, India, Parkistan, Hong Kong, Macau, Taiwan, middle east, African market, etc. Along Silk Road economic belt, Sunwin 18m BRT has maintained 100% market share in Pakistan for 5 years, acquired the reward of "Flower of China Pakistan Friendship"; Sunwin electric city bus becomes new energy cooperation example of cross straits in Taiwan; Sunwin school bus is now the benchmarking product in UAE market. From Jan to May in 2017, Sunwin already obtained overseas order of over 800 units, total amount summing up to beyond 70 million USD. Till now, Sunwin achieved consistent sales in every overseas market. Sunwin earned customers' trust and respect in Chinese products by its responsible attitude.
This activity demonstrated recognition and confirmation for "Made in China" of overseas customers. It's an active signal of China public transportation development flourish. Sunwin will inherit SAIC group "Honesty, Responsibility, Cooperation, Innovation, Progress, Dream" value, participate in global large and medium bus competition with better quality and better service, spread Shanghai good quality, Shanghai contract spirit to the whole world.
At the same time, under national policy support, Sunwin will use SAIC and VOLVO advanced technical platform, continuously improve R&D level, make various adjustment from market research to product and customer industrialization, from customer's viewpoint to product performance, function, cost and operating details, always keep products advanced, also make each product bring value to customers. Sunwin will try its best to become a manufacturer with international competitiveness, make product and service innovation, create value for society, and achieve sustainable development.
Editor:
Related China Bus News