CRRC Times Electric Releases "Internet +" Electric Logistic Vehicles
2017-04-20 Author: Source:www.chinabuses.org
Summarize:On April 18, 2017 Urban China Transport Summit was held in Shanghai Themed with "Green Revolution, Leading the Future Urban Transport", the event was jointly organized by CRRC Times Electric, Dongfeng Automobile and Chuanhua Yihuodi Seven logistic vehicles featuring "Internet +", also made their debut, which are expected to push forward the green urban transport industry in China
www.chinabuses.org: On April 18, 2017 Urban China Transport Summit was held in Shanghai. Themed with "Green Revolution, Leading the Future Urban Transport", the event was jointly organized by CRRC Times Electric, Dongfeng Automobile and Chuanhua Yihuodi. Seven logistic vehicles featuring "Internet +", also made their debut, which are expected to push forward the green urban transport industry in China.
Among these logistic vehicles, two are the latest generation logistic vehicles made by CRRC Times Electric. Equipped with T-Power5 permanent magnetic electric motor, the two vehicles are measuring four meters and six meters respectively. Both are powerful in performance and can be recharged on slow- and fast-recharging mode.

Achieving high safety and reliability standards, the fifth generation T-Power system rolled out by CRRC Times Electric represents the highest technologies in China. Dongfeng EV300 electric light-duty trucks and Dongfeng Yufeng electric light buses are all equipped with T-Power5.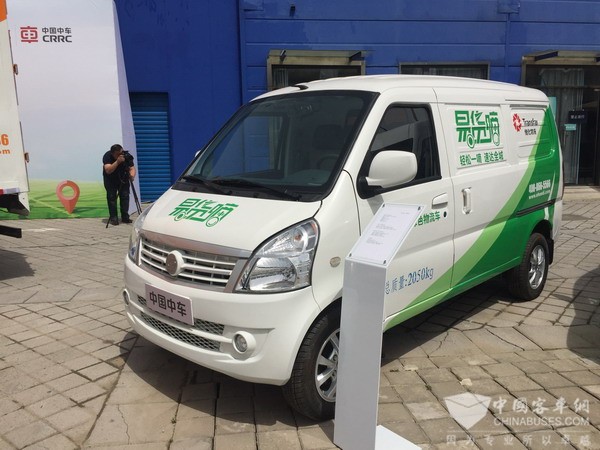 E-cargo, brought by Chuanhua Yihuodi, is equipped with LBS technologies and intelligent control technologies. The vehicle can be monitored and controlled in real-time, helping its operators further cut energy costs.

By cooperating with Chuanhua Yihuodi and Dongfeng Automobile, CRRC Times Electric is planning to further expand its presence in China's new energy logistic vehicle market. Chuanhua is currently the leading operator in China's road logistic service industry. Yihuodi is a new platform which well integrates the company's strengths in logistic services, online logistic products and financing services. As a leading vehicle brand in China, Dongfeng has been in cooperation with CRRC Times Electric for many years. The two parties are now committed to developing new energy vehicles. The trilateral cooperation among the three companies aims to further push the bar in the green urban logistic services in China.

Editor:
Related China Bus News