Foton AUV Green Buses Win Rising Popularity in Haikou
2017-03-17 Author: Source:www.chinabuses.org
Summarize:In early this year, Haikou Public Transport Group officially put a new batch of Foton AUV electric buses into operation on bus route No 4 in Haikou With more spacious room, quieter and more comfortable traveling environment, and zero emission standards, these new vehicles have instantly gained favors from the bus operator, bus drivers and local citizens
www.chinabuses.org: In early this year, Haikou Public Transport Group officially put a new batch of Foton AUV electric buses into operation on bus route No.4 in Haikou. With more spacious room, quieter and more comfortable traveling environment, and zero emission standards, these new vehicles have instantly gained favors from the bus operator, bus drivers and local citizens. Officially opened in 1951, the bus route No.4 has long become one of the major bus routes in Haikou city, shouldering heavy public transportation tasks. In 2012, the bus route was recognized as China's Ten Best Bus Routes by China's Ministry of Transport (MOT).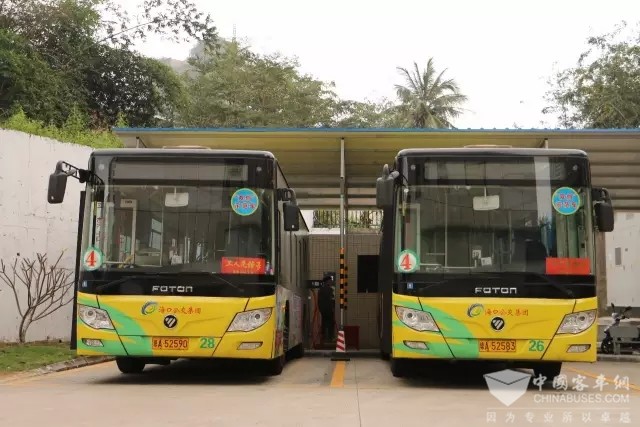 Compared with traditional fuel powered buses, Foton AUV electric buses can reduce the noise level markedly and cut energy consumption and emissions significantly. Suppose each vehicle is driving 100 kilometers each day, one year after, the bus is able to cut the emission of carbon monoxide by 144 kilograms, carbon dioxide by 2,520 kilograms, particulates by 11 kilograms, and hydrocarbons by 13.3 kilograms.
"Positioned as an international travel island, Hainan has been making an all-out effort to upgrade its public transport system and making the island more attractive from other provinces", says Wang Jinrong, General Manager of Haikou Public Transport Group. He also reveals that his company has been in cooperation with Foton AUV for about six years. To date, the bus maker has introduced diesel-fueled buses, LNG buses, plug-in hybrid buses and electric buses from Foton AUV. Based on the high quality products and smooth operation of Foton AUV buses, Mr. Wang said his company made the decision to buy 20 units Foton AUV electric buses in 2016 with any hesitation.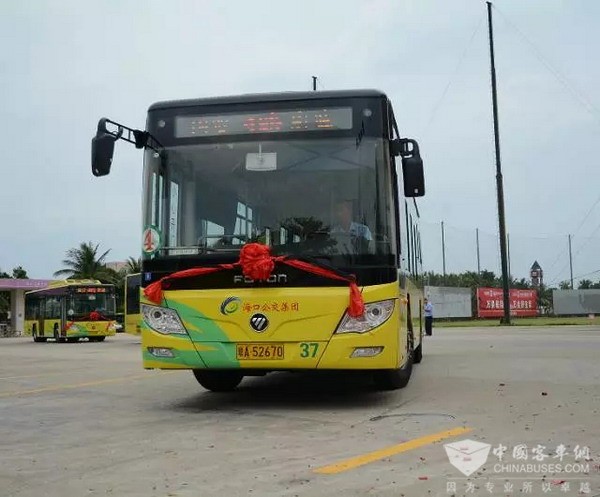 In the near future, Haikou Public Transport Group will introduce more new energy buses to build a low-carbon public transportation system in the city. Given the unique weather conditions, the city has very stringent requirement for buses, especially the vehicles' air-conditioning system, ventilation system, heat dissipation system, safety standards and anti-corrosion standards, etc. In addition, the smart management and operation of the vehicles needs the buses to have level of intelligence to cope with complex situations.
Foton AUV electric buses now operating in Haikou are all equipped with fast-recharging systems, which help the vehicles fully meet the operation demands in Haikou. After a round-trip, the bus only needs eight to ten minutes to be fully recharged. Moreover, such a fast recharging mode greatly helps the bus operator save operation costs.
Set up in 1951, Haikou Public Transport Group has been playing a significant role in Haikou city. In recent years, the company has greatly expanded its bus fleet to meet the rising demands. So far, the number of clean energy powered and new energy buses has accounted for 80.2% of the city's total bus fleet.
Editor:ida
Related China Bus News