Sunlong Buses Serve at Two Sessions
2017-03-10 Author: Source:www.chinabuses.org
Summarize:This year marks the tenth year for Sunlong to serve at the two sessions, which fully demonstrates the bus maker's formidable competitiveness and overall strength in China's bus manufacturing industry
www.chinabuses.org: Known as the two sessions, China's annual legislative and political advisory sessions officially kicked off in early March in Beijing. As the highest level political event in China, the two sessions are renowned for their strictness in safety and security standards. Every year, buses and coaches designated for the two sessions have gone through a series of tests and several rounds of selection.
This year marks the tenth year for Sunlong to serve at the two sessions, which fully demonstrates the bus maker's formidable competitiveness and overall strength in China's bus manufacturing industry.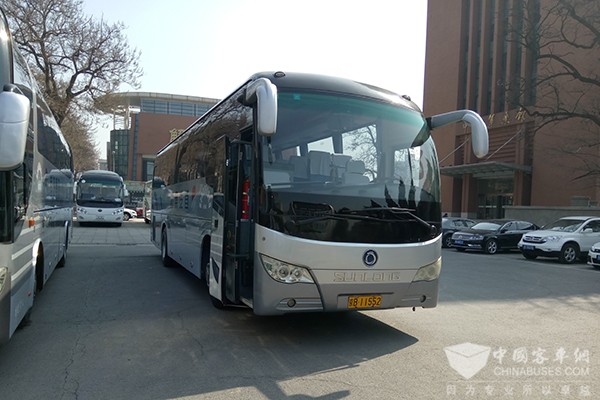 Having accumulated rich experience in serving at the two sessions, Sunlong is fully confident to deliver smooth and comfortable transportation services for delegates. A special back-up team has also stationed in the capital to ensure the smooth operation of Sunlong bus fleet. As early as the end of 2016, the team arrived in Beijing, conducting comprehensive check-ups for all Sunlong vehicles. In addition, drivers have also received a special training program. During the two sessions, the back-up team is working 24/7 to deal with any possible emergencies. On each day, technians are held responsible for taking good care of all Sunlong buses and coaches and giving them proper maintenances.
Editor:ida
Related China Bus News