Yutong T7 and New Energy Buses Take the Lead at 2017 NPC and CPPCC Sessions
2017-03-03 Author: Source:www.chinabuses.org
Summarize:2017 NPC and CPPCC sessions are scheduled to kick off in Beijing on Mar 5 and Mar 3 respectively As an experienced carrier serving at the two high-profile events for thirteen consecutive years, Yutong sends its most popular products T7 and E10 as the leading carriers for service this year
www.chinabuses.org: 2017 NPC and CPPCC sessions are scheduled to kick off in Beijing on Mar. 5 and Mar. 3 respectively. As an experienced carrier serving at the two high-profile events for thirteen consecutive years, Yutong sends its most popular products T7 and E10 as the leading carriers for service this year.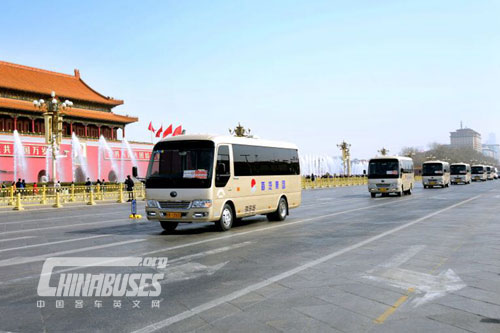 For any bus makers, being able to serve at the annual NPC and CPPCC sessions is not only a great honor, but a precious opportunity to enhance their brand image in the global market. For the past thirteen years, Yutong has never been absent from the two major political events in China. With the zero-fault record, Yutong buses and coaches have also won wide recognition thanks to its high reliability and unparalleled services.
Recently, Yutong bus fleet has already finished a comprehensive check-up, making sure that each and every vehicle in the fleet will deliver smooth and comfortable services for all delegates attending the two events.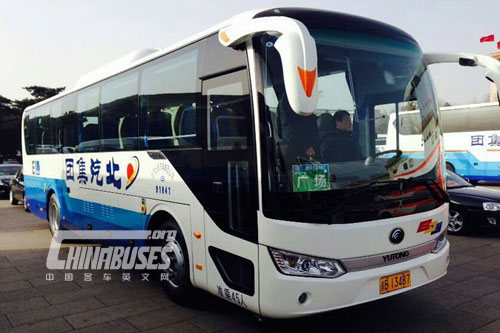 After the first entry of new energy buses at 2016 NPC and CPPCC sessions, Yutong E10 was again chosen as the carrier for this year's service. Along with the constantly improving manufacturing technologies, new energy buses serving at China's NPC and CPPCC sessions are expected to become the "new normal".
Yutong T7, another rising star in China's bus market, has already gained a firm foothold in the international market, fully representing China's highest manufacturing technologies of business reception vehicle. Having successfully passed a series of stringent tests under extreme temperature and working conditions, Yutong T7 has already appeared at a host of high-profile events, such as 2016 NPC and CPPCC sessions, Bo'ao Asia Forum, G20 Hangzhou Summit.
In 2016, China's new energy vehicle industry witnessed a fast growing momentum. For two consecutive years, both the production and sales volume of new energy vehicles in China ranked the first place in the global market. As a bellwether in the industry, Yutong has made a number of technological breakthroughs, taking the industry to a new historical height.
In 2016, Yutong sold 26,856 units new energy buses and launched H8 plug-in hybrid city buses and its third generation fuel cell buses. More significantly, Yutong new energy buses made its appearance at Havana International Trade Fair in Cuba, making a big splash in the global bus market.
Editor:ida
Related China Bus News