400-plus Big Heads Gathered at Yutong, Discussing New Energy Public Transportation
2017-03-02 Author: Source:www.chinabuses.org
Summarize:On February 27, over 400 bus experts and representatives from bus operators across China gathered at Yutong, attending ReCtrl Leading New Upgrading---Yutong New Energy City Bus Promotional Campaign and discussing sustainable new energy public transportation development At the one-day meeting, the newly upgraded ReCtrl System and Yutong New Energy Public Transportation Solutions made a high-profile debut Their appearance in the market is a timely signal to lead the industry to a new historical height
www.chinabuses.org: On February 27, over 400 bus experts and representatives from bus operators across China gathered at Yutong, attending ReCtrl Leading New Upgrading---Yutong New Energy City Bus Promotional Campaign and discussing sustainable new energy public transportation development. At the one-day meeting, the newly upgraded ReCtrl System and Yutong New Energy Public Transportation Solutions made a high-profile debut. Their appearance in the market is a timely signal to lead the industry to a new historical height.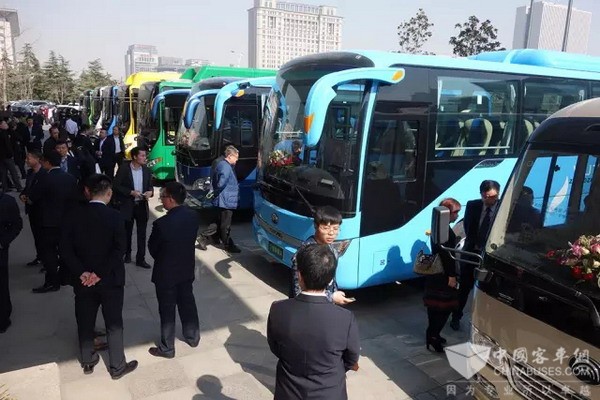 Policies focus on demand-driven technological innovations.
In recent years, China's new energy bus industry has witnessed a robust growth thanks to the governments' favorable policies. With the gradually diminishing subsidies, especially after the new subsidizing policy on new energy vehicles released on December 30, 2016, how to ensure the sound and sustainable development has become a pressing issue for all enterprises involved in this field.
"The new policy has further upped the threshold for those new energy vehicles which are entitled for subsidies. More emphasis has been put on vehicle's safety standards, reliability and energy efficiency. The subsidizing process is also shifting from the purchasing stage to the operation stage with the final goal that the subsidies to be reduced to zero when bus operators introduce new vehicles. In addition, much higher standards are required now for the battery's life expectancy and power density, which are in line with the rising demand for the economy and versatility of new energy vehicles", says Dr. Wu Zhongyi from the Research Institute of the Ministry of Transport. Against the backdrop of "Internet +", developing intelligent V2X has become the consensus of the global automotive industry.
Yutong seeks new technological breakthroughs.
Apparently, the development of new energy bus industry should be based on the market and technological innovation. As the bellwether in the industry, Yutong has been constantly increasing its investment in developing new technologies and seeking new technological breakthroughs. With more tailor-made high-quality products and upgraded overall public transportation solutions, Yutong is set to further pushing forward the sound and sustainable development of China's new energy bus industry.
According to Zhou Bao, Senior Product Manager of Yutong, the newly upgraded ReCtrl system is rolled out in line with National Electric Bus Safety Requirements --- Yutong 3S Safety Standards. Realizing "3S + Safety Upgrading", the new generation ReCtrl system further ensures the smooth operation of new energy buses through a number of means, such as closer monitoring, fire prevention, water-proof measures, electrification prevention and anti-collision measures. In addition, batteries mounted on Yutong new energy buses now boast higher power density and improve its adaptability while working in areas with high altitude. As for the hybrid buses, the new ReCtrl system can help the vehicles improve fuel efficiency by 60% thanks to the improvement of its body structure and the development of special engines. What's more, the new system is better prepared for working in those areas with high altitude or extremely low temperatures.
Yutong maps the future for new energy buses.
Speaking on intelligent V2X development, Song Tianfeng, a bus expert, points out that the transformation of the transport industry heavily relies on the improved intelligence of vehicles and the development of V2X technologies. Electric buses are only the first step before improving their intelligence and realizing V2X.
Yutong firmly believes that future new energy buses should fully integrate intelligent technologies, V2X technologies and electric technologies. Thus, they are able to realize information exchange and sharing, intelligent control and planning in sophisticated situations, as well as safer, greener and more comfortable operation.
Wang Jianjun, Marketing Director of Yutong reveals that the bus maker has already set up V2X Research Center and made a host of adjustments to its corporate organization. In doing so, it aims to better meet the market demands and help customers solve their pressing problems. Yutong Buseye Pro, which is an integrated alarming system for accident, collision, deviation and speeding, will be applied on all Yutong new energy buses within this year.
Editor:ida
Related China Bus News