Yutong Soon to Hold 85% Market Share in Macau
2016-11-08 Author: Source:www.chinabuses.org
Summarize:www chinabuses org: Macau Auto Expo 2016 officially kicked off on November 4, 2016 At the opening ceremony of th
www.chinabuses.org: Macau Auto Expo 2016 officially kicked off on November 4, 2016. At the opening ceremony of the show, Yutong was invited as a representative of manufacturers to witness the parade. The head of Macau SAR and other officials also paid their first visit to Yutong exhibition stand when they took a tour at the exhibition hall.

At this year's expo, Yutong brought three vehicles on display, namely an airfield bus, a luxury recreational vehicle, and a barrier-free commuting bus. Born from a school bus chassis, Yutong luxury recreational vehicle has its engine mounted in front and has superior standards of safety and reliability.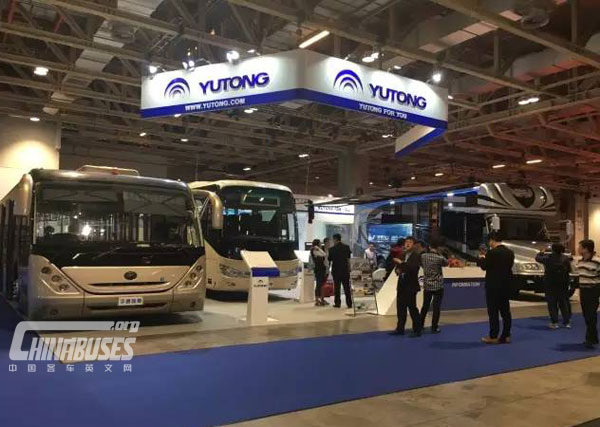 As of the end of 2016, the sales volume of Yutong buses in Macau is expected to reach 1,000 units. Thus, Yutong will hold a whopping 85% market share in the city. Apart from tourism coaches and city buses, the bus maker is aiming to expand its presence in the special vehicle market. "Six years ago, when we first came to Macau Auto Expo, we only intended to gain a deeper understanding of our customers in Macau. To our surprise, we gradually learned that the event also exerts great impacts on Hong Kong and Southeast Asia", says Chang Hao, Deputy General Manager of Yutong International Business Dept.

In 2016, Yutong's total sales volume across the globe is expected to break the threshold of 70,000 units, accounting for 15% global market share. Also in this year, its export volume is ready to reach 8,000 units. Its buses have successfully made their way to 135 countries and regions across the globe thanks to their high quality standards and sound after-sales services. Its bus LCC management solution no longer competes with its rivals for just the price. Instead, it seeks all possible means to help bus operators cut their operation costs and maintenance costs, thus bringing them more profits.

As a leading bus maker in China, Yutong has been maintaining a robust growing momentum in its overseas expansion in recent years. Tang Yuxiang, president of Yutong Group, once vividly called the company's fast growth as Cuban Mode. According to the bus maker, it officially entered Cuban market in 2005. To date, the number of Yutong buses operating in Cuba has reached over 6,800 units, meaning the company is holding over 99% market share in the country. Its fast rise in Cuba lies in its relentless efforts to meet varied needs of different customers and help them create more added value. Always regarding its customers' needs as the company's top priority has earned Yutong trust and confidence from its customers.

Now, Yutong new energy buses, city buses, tourism coaches airfield buses and recreational vehicles provide wider choices for its global customers. Along with the Paris Climate Agreement came into effect, Yutong new energy buses are set on helping all nations cut their CO2 emissions.
Editor:ida
Related China Bus News