Zhongtong Expands its New Energy Market in Xinjiang
2016-11-07 Author: Source:
Summarize:On November 4, Zhongtong successfully secured a deal with Urumqi Public Transport for 90 units 10 5-meter gas-electric hybrid city buses, the largest new energy bus deal in the autonomous region Since 2016, Urumqi Public Transport started introducing new energy buses The new bus fleet is expected to arrive in the city next month, changing the landscape of new energy bus market in Xinjiang Autonomous region
www.chinabuses.org: On November 4, Zhongtong successfully secured a deal with Urumqi Public Transport for 90 units 10.5-meter gas-electric hybrid city buses, the largest new energy bus deal in the autonomous region. Since 2016, Urumqi Public Transport started introducing new energy buses. The new bus fleet is expected to arrive in the city next month, changing the landscape of new energy bus market in Xinjiang Autonomous region.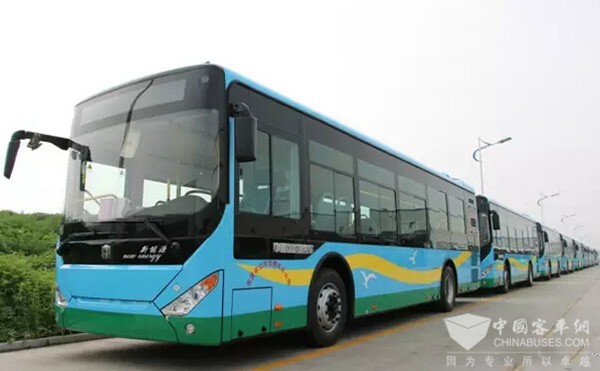 Zhongtong 10.5m hybrid city buses

In the first three quarters this year, Zhongtong's sales volume of new energy buses reached nearly 9,000 units, accounting for nearly 20% of the whole market in China and ranking the second place in the market.

The key of Zhongtong's success lies in its well developed plug-in co-axial parallel connection technologies. Boasting superior reliability and stability, Zhongtong new energy buses equipped with the technologies achieve higher energy efficiency and can climb slopes more easily. Since the debut of such competitive new energy bus manufacturing technologies in 2014, Zhongtong plug-in hybrid buses have been well received in the market. So far, the number of such buses has reached 10,000 units.

In recent years, Urumqi's public transport has been witnessing huge changes. Currently, the city has 2,186 units buses with varied power systems. With a total number of 1,105 units, Zhongtong now holds more than half of the city bus market in Urumqi. In November 2015, 30 units Zhongtong BRT buses officially made their way to Xinjiang market. Currently, 70% of CNG buses are branded with Zhongtong.

In 2004, Zhongtong officially set up its branch in Xinjiang. With over a decade's cultivation and expansion in the market, the bus maker has so far established a well-connected after-sales network in the autonomous region. This year in particular, Zhongtong received some major orders from Urumqi, Aksu, Bole and Kashgar.
Editor:ida
Related China Bus News