Microvast Provides Power Solutions for New Energy Vehicles
2016-10-20 Author: Source:www.chinabuses.org
Summarize:During the conference, Microvast brought its standard modularized battery systems, tailor-made battery systems, battery cells, and MVPack on display at the exhibition area, attracting many participants' attention and arousing their keen interest
www.chinabuses.org: From October 17 to 20, the ninth International Electric Vehicle New Lithium Battery Conference, also known as ABAA9, was held in Huzhou, Zhejiang Province. A total number of over 500 experts and professionals from the battery industry all the world attended the conference. During the four-day meeting, participants held heated discussions and exchanged their views on the development trend of batteries. Dr. Liu Wenjuan, vice president of Microvast Inc., on behalf of all enterprises involved in developing lithium batteries, delivered a keynote speech on the incombustible, fast-recharging and recyclable batteries with long life expectancies.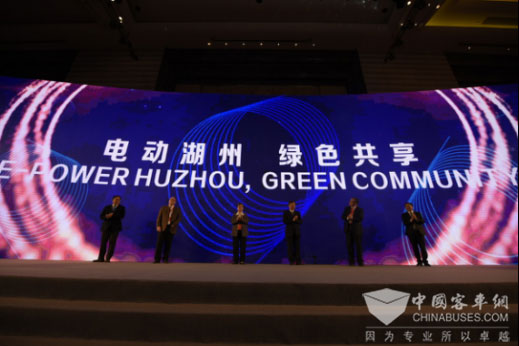 E-Power Huzhou, Green Community
On October 17, Bian Shuguang, Deputy Director of Hi-tech Research & Development Center of China's Ministry of Science and Technology, gave a detailed introduction about China's achievements in developing new energy vehicles and batteries and offered his interpretation on the future development trend of the industry. He pointed out that high-performance and low-cost new lithium-ion batteries will be the major source of power for new energy vehicles. Jim Greenbarger, chief executive of US Advanced Technology Battery Association, David Howell, Director of Highly Efficient Energy and Renewable Energy Vehicle Technology Office of the Energy Department of USA, Katsunori Kadato from Japan New Energy Industry & Technology Development Institute shared the latest achievements in batteries development for electric vehicles in their own countries and their projections of the future development trends in this field.
During the conference, Microvast brought its standard modularized battery systems, tailor-made battery systems, battery cells, and MVPack on display at the exhibition area, attracting many participants' attention and arousing their keen interest.
Along with ABAA9, 2016 China International Trolley Bus Innovation Technology Conference & 25th UITP Trolley Bus Committee 2016 Annual Conference was also held in Huzhou. Jointly organized by China Road Transport Association (CRTA) Urban Passenger Transport Branch and UITP-TBC, the conference was hosted by Microvast Power System (Huzhou) Co., Ltd.
In the past few years, Microvast conducted comprehensive cooperation with some leading automakers in China. Through their joint efforts, Microvast has rolled out new generation of batteries which require much shorter time for recharging. Moreover, its batteries have significantly helped electric vehicles achieve much longer continuous driving distance. In terms of safety and maintenance, Microvast batteries are now taking the lead in the global market. Kevin Kirk, Vice President of Microvast North America Sales Department, revealed that Microvast fast-recharging technologies are able to meet the special needs of trolley buses. According to Mr. Kirk, different from China, US government subsidies for new energy vehicles are directly given to new energy bus operators instead of bus makers. In doing so, bus operators have more freedom to choose new energy products that suit their special needs.
Deng Kai, General Manager of Microvast Europe revealed that Microvast fast-recharging batteries have equipped electric buses in the UK and Belgium. Over 1,000 sets of lithium titanate batteries are in smooth operation in Europe. In China, they can also be found on electric buses in Beijing, Chongqing, Suzhou, and Ningbo, etc. Apart from buses, Microvast batteries have also been applied to port facilities, hybrid trucks, and dumper lorries.
At the conference, bus operators from Beijing, Jinan and Luoyang introduced the operation of trolleys in their own city and they all spoke highly of the operation mode, safety standards and accessibility of trolley buses. Kong Weifeng from Beijing Public Transport Group, revealed that the capital introduced its first trolley bus in 1999. In July 2009, trolley buses in Beijing started equipping themselves with lithium-ion batteries. In 2012, Beijing Public Transport introduced 180 units trolley buses with lithium-ion battery systems. So far, the number of trolley buses in Beijing has reached 1,200 units and these vehicles have significantly improved their operation efficiency. Those equipped with Microvast battery systems on BRT3 Line have been in smooth operation for nearly two years and have been delivering satisfactory services for passengers.
Jinan Public Transport Co., Ltd. revealed that the city introduced the new generation trolley buses with lithium-ion battery systems in 2014. These buses are able to drive for ten kilometers without linking to the power line and they have been playing an essential role in the city's urban public transportation. Luoyang Public Transport Co., Ltd. said that company has been cooperating with the local government and various organizations for optimizing its trolley bus networks. So far, the city has 77 units trolley buses with a total route distance of 36 kilometers.
To date, trolley buses have successfully won the recognitions from many bus operators in Europe, North American and China. Microvast is ready to provide its battery fast-recharging technologies for bus operators across the globe to upgrade their traditional bus fleet and provide environmentally friendly transportation services for more passengers.
During the conference, participants also paid a visit to the fast-recharging stations for buses at Huzhou High-speed Railway Station, gaining first-hand knowledge of the operation of Microvast fast-recharging batteries on electric buses. After the meeting, participants will fly to Beijing to visit the operation of electric buses with Microvast battery systems in Xiaoying.

Editor:ida
Related China Bus News