CRRC Makes Big Splashes in the EU New Energy Vehicle Market
2016-09-30 Author: Source:www.chinabuses.org
Summarize:On September 24, CRRC officially released its "Low-carbon Future---CRRC Sustainable Public Transportation Solutions0" at Hanover International Commercial Vehicle Exhibition in Germany LinTian, Deputy General Engineer of CRRC, on behalf of his company, revealed the official entry of CRRC new energy vehicles in the European market
www.chinabuses.org: On September 24, CRRC officially released its "Low-carbon Future---CRRC Sustainable Public Transportation Solutions0" at Hanover International Commercial Vehicle Exhibition in Germany. LinTian, Deputy General Engineer of CRRC, on behalf of his company, revealed the official entry of CRRC new energy vehicles in the European market.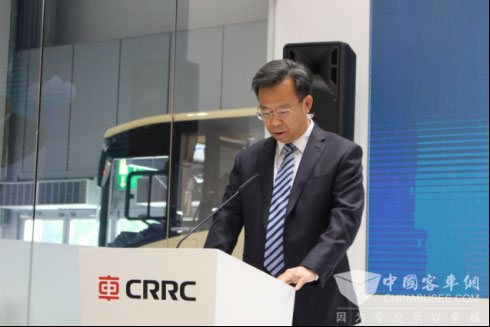 Lin Tian, Deputy General Engineer of CRRC delivered a speech at IAA 2016

Currently, CRRC is fully committed to making new breakthroughs in key technologies for rail transportation and expanding its business electric vehicle industry. In recent years in particular, CRRC has been making constant efforts to promote the presence of its new energy vehicles. Take its subsidiary CRRC Times Electric for example, the company has provided electric buses for FIFA World Cup in Brazil and it has successfully entered the North American market thanks to its state-of-art power system.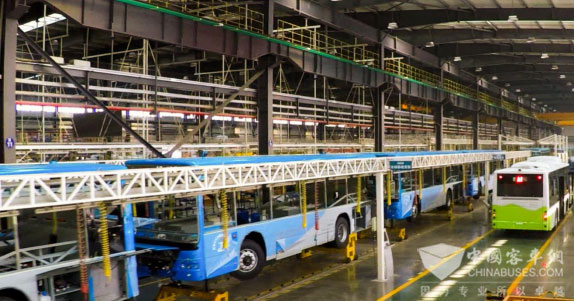 CRRC Final Assembly Workshop

"Going out is the way to our business success and is also the only way to internationalize our brand", says Shen Yuxiang, President and General Manager of CRRC Times Electric. As of the end of 2015, CRRC's sales volume of new energy vehicles and driveline system & key spare parts had reached 15,000 units and 30,000 sets respectively. Moreover, CRRC new energy bus fleet had boasted an accumulated safe operation mileage of three billion kilometers. Currently, CRRC new energy vehicles can be seen in over 100 cities across China, fully demonstrating its formidable competitiveness.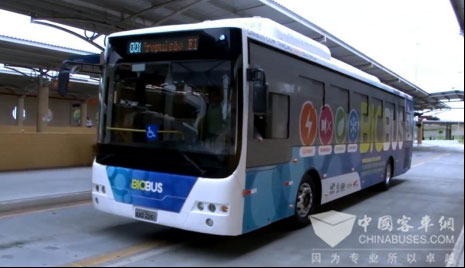 CRRC Bus provided service for World Cup, in Brazil

By 2020, CRRC will have large- and medium-sized buses, light buses, special vehicles and key spare parts as its core business. The company is also aiming to increase its annual sales volume of whole vehicles to over 20,000 units and its annual export volume of driveline systems to 100,000 sets, becoming an internationally well-known brand in the global new energy vehicle industry.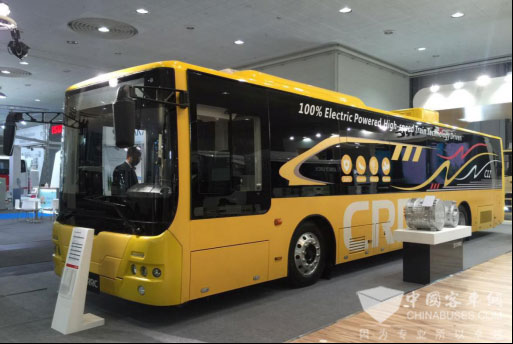 CRRC C12 Bus made its debut at IAA 2016

Wang Jian, an expert in bus industry, points out that currently Turkey and Brazil are the two major bus manufacturing countries in the world. In addition, Japanese and South Korean bus brands are quite influential in some regions across the world. How to internationalize our indigenous brands is a huge challenge faced by all bus brands in China. In the EU market in particular, it has internationally well known brands such as Benz and MAN. What's more, the market has always been famous for its stringent standards for energy conservation and emission reduction.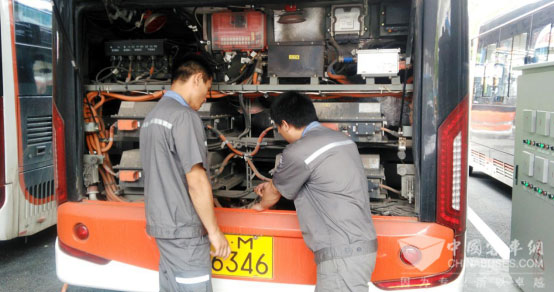 CRRC's after-sales personnel provided timely and comprehensive service for customers

Despite all these difficulties, Mr. Shen says the company can and must seek mutual growth and development with its foreign customers in an era of global economy. At Hanover Commercial Vehicle Exhibition, CRRC displayed its C12 electric city bus particularly made for European market. With low-floor access and three doors, the bus offers its passengers more spacious room and boasts even larger passenger loading capacity. After being recharged for just one hour, C12 is able to drive 260 kilometers continuously. Its T-Power system is 30% lighter compared with traditional power system, and thus it helps the vehicle cut its energy consumption by 50%.

According to Mr. Shen, going-out is not enough, it is also intended to improve our products and better our services in the domestic market.  
Editor:Daisy
Related China Bus News