CRRC Attends Hanover International Commercial Vehicle Exhibition
2016-09-26 Author: Source:www.chinabuses.org
Summarize: At Hanover International Commercial Vehicle Exhibition, CRRC brought two electric city buses on display One of them is the latest generation C12 electric city bus developed and produced by CRRC Times Electric, the new energy vehicle production base in Zhuzhou for CRRC The other is the second generation super capacitor energy storage 18m trolley bus Under the theme of "Low-Carbon Future", CRRC also held a press conference, releasing its sustainable public transport solutions to the world
www.chinabuses.org: At Hanover International Commercial Vehicle Exhibition, CRRC brought two electric city buses on display. One of them is the latest generation C12 electric city bus developed and produced by CRRC Times Electric, the new energy vehicle production base in Zhuzhou for CRRC. The other is the second generation super capacitor energy storage 18m trolley bus. Under the theme of "Low-Carbon Future", CRRC also held a press conference, releasing its sustainable public transport solutions to the world.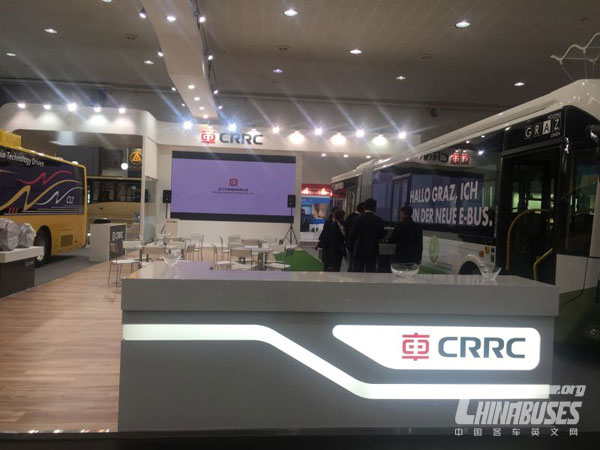 CRRC Stand at IAA 2016

Equipped with the core technologies for bullet trains, C12 electric city bus now represents the highest bus manufacturing technologies of CRRC Times Electric with its fifth generation T-power system. Measuring 12 meters in length, the vehicle has passed EU high-speed railway level new energy vehicle certification. The highly integrated, standardized, modularized and intelligent fifth generation T-power system has cut the vehicle's weight by 33% and is able to lower energy consumption by 52%. Boasting high intelligence and high reliability, the vehicle can be fully recharged in one hour thanks to the direct current (DC) double gun recharging technology. Once fully recharged, the vehicle is able to drive 260 kilometers.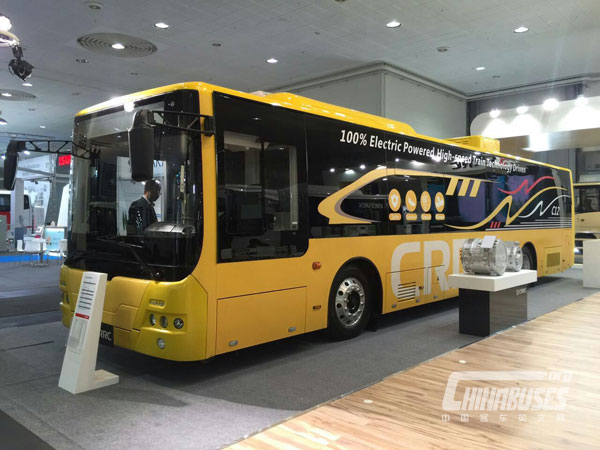 CRRC C12 Electric Bus

Apart from the upgrading of the core technologies, C12 has a low-floor access with the floor height less than 340 mm above the ground. The vehicle has special facilities for disabled people. To ease driving fatigue, the bus has mounted vibration reduction chair and electronically controlled rear-view mirror for bus drivers. A USB recharging port is also available on passengers' seat.

It is reported that the second generation super capacitor energy storage 18m trolley bus has achieved an upgrade compared to the first generation and meet the European Standard through the use of CRRC railway transporation technology with a stylish and modern shape, extended driving range and spacious room.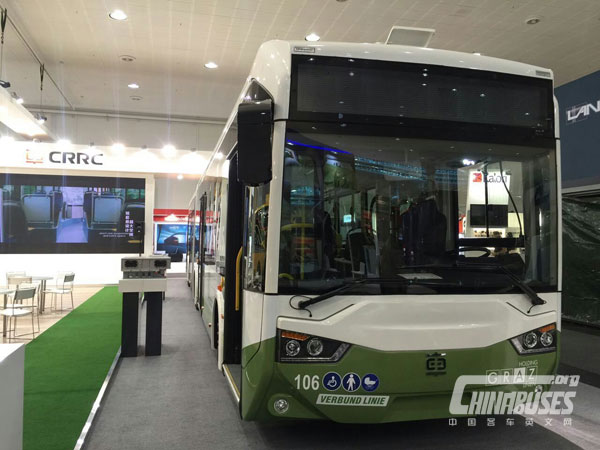 The Second Generation Super Capacitor Energy Storage 18m Trolley Bus

Having been involved in developing and researching new energy vehicles for fifteen years, CRRC has fully mastered electric power and control technologies. It had sold 15,000 units electric vehicles and 30,000 sets of electric driving systems and key spare parts as of the end of 2015. With an accumulated mileage of three billion kilometers, the company has been helping cut carbon emissions by 58 million tons. CRRC Times Electric, wholly owned by CRRC, has served at a number of high-profile events, such as 2008 Beijing Olympic Games, 2010 Shanghai Expo, Guangzhou Asian Games, FIFA World Cup in Brazil and FIFB Asia Championship.

Hanover International Commercial Vehicle Exhibition has been in existence for over a century. As the world's top notch exhibition for commercial vehicles and related spare parts, the exhibition is a must-go event for all those globally-minded commercial vehicle manufacturers and related spare parts providers.
Editor:Daisy
Related China Bus News