Golden Dragon Product Promotion Release in Israel - Speech Delivered by Peng Qingdong
2016-06-28 Source:www.chinabuses.org
www.chinabuses.org: The following are the speech delivered by Golden Dragon Deputy General Manager Peng Qingdong in Israel Product Promotion Release.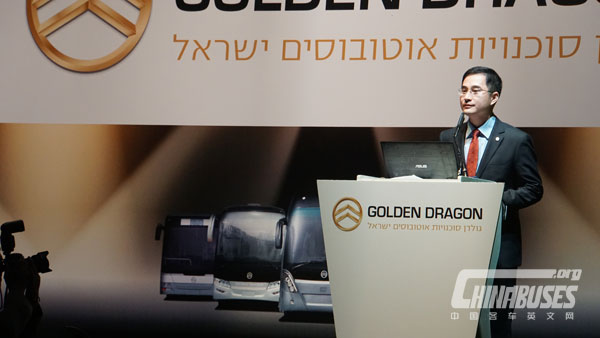 Good Evening Ladies and Gentlemen,

On the behalf of Xiamen Golden Dragon Bus Co., LTD, firstly, I would like to my great thanks to our Israeli Partner Auto-Chen for organizing this big event for Golden Dragon Bus Products. Secondly, welcome all the Israeli friends to this show and I sincerely hope tonight will be a great family party.

I would like to make a short introduction of Xiamen Golden Dragon Bus Co., Ltd, Golden Dragon was found in 1992, and it had become one of the leading bus manufactory in China and was the one of the first Chinese bus manufactories who exploring the overseas business.

Six months ago, we had reached a total overseas sales amount of 50,000 units of buses. Fortunately, the 50,000th is the city bus we exported to Israeli market.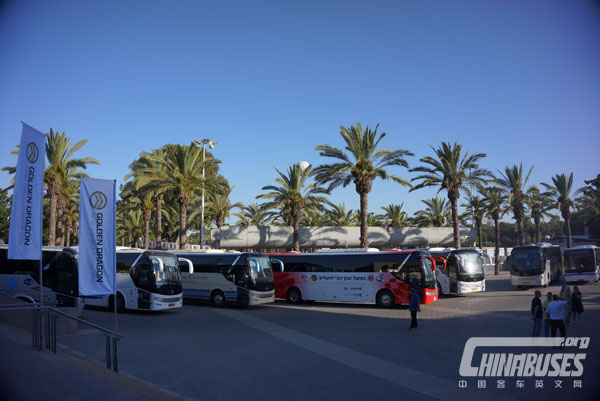 Our cooperation with Auto-Chen started in 2011, we had been through many difficulties, including market researches, product discussions, prototype developments and improvement, and prototype trails in Israel. After many years of hard works step by step, we had successfully exported over 500 units of buses to Israel. Especially, in 2015 and 2016, we had great increases in sales, after the Superbus Valley's Tender Project, we obtained the order from DAN company for Ashkelon city.

Golden Dragon had received great market feedbacks of Israel due to our company principle of "treat your customers like your families". The family concept drives us to bring the customers with great satisfactions. Today, we are presenting 7 different models here; each one was customized and tailored according to Israeli customers'requirements. We believe that better understandings and satisfactions of the needs of customers can bring us a long-term development.

Besides, we also provide a comprehensive after-service in Israeli market. Currently, we had formed a service team from China locating in Israel dedicating to provide the on-time services to every customer.

Our products for Israeli market had covered from luxury coach, intercity, city and etc. The CNG and pure electric bus was developed after deep researches in Israel, they represent the highest quality of Golden Dragon. We also believe these two models have a great future in Israeli market.

We had started the new energy solution bus project since 2002, after many years of experiences in China and overseas markets, Golden Dragon had accumulated rich experiences in the new energy solution bus models.We would like to share our achievements with our clients around the world, including charging facilities establishment, model selection, fleet management, specification arrangement, and remote monitoring.

After deep researches of Israeli city bus operation conditions, we had developed this 12m full alloy-aluminum body pure electric city bus model with minimum 250km driving mileage per single charge, aims to maximize the operators 'daily demand like diesel bus.

In addition, we had integrated a remote monitoring system into this model. If unforeseen circumstances happen, the system will immediately inform the control center for an emergency solution. Meanwhile, the operator can monitor the bus through the mobile devices so as to improve the operation management efficiency.

In 2015, Golden Dragon had produced 5800 units of new energy solution buses, not only for domestic market, but also for exporting to Germany, Norway, Denmark, Netherlands and etc. 3 months ago, we had received an order from France of supplying 10 units of city bus to Paris. In the end of 2016, we will have our buses running in Paris and offer the passengers with a quiet and comfortable service. Golden Dragon is dedicating to provide the best new energy solution buses globally.

Today, I had brought the best engineering team from Golden Dragon here to share what we known about the new energy solution buses with all of you, please feel free to speak with them for your needs.

In the end, thank you very much for coming and I wish a great success of this event and Golden Dragon and Auto-Chen will have a wonderful future.

Thank you!!!

Editor:
Related China Bus News