Huanghai Electric Buses Attend Macau Environmental Protection Exhibition
2016-04-11 Source:www.chinabuses.org
Summarize:Organized by Macau SAR, 2016 Macau International Environmental Protection & Cooperation Development Forum and Exhibition was held at Venetian Exhibition Hall on March 31 Themed with Green Economy, New Power, Waste Disposal, and New Opportunities, the event is aimed at promoting the exchange and cooperation in the environmental protection areas, related technologies, and consultations between pan Pearl Delta and the international community
www.chinabuses.org: Organized by Macau SAR, 2016 Macau International Environmental Protection & Cooperation Development Forum and Exhibition was held at Venetian Exhibition Hall on March 31. Themed with Green Economy, New Power, Waste Disposal, and New Opportunities, the event is aimed at promoting the exchange and cooperation in the environmental protection areas, related technologies, and consultations between pan Pearl Delta and the international community.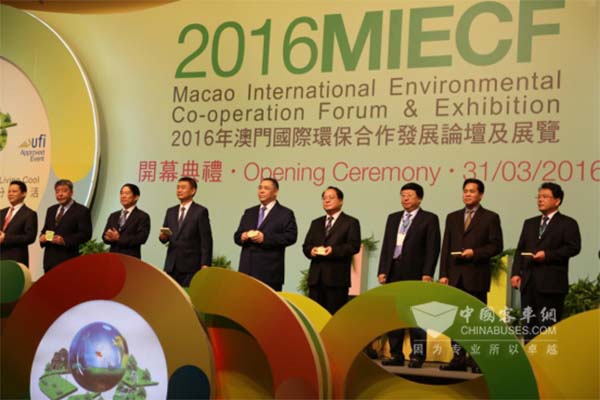 Huanghai brought its products in three major business sectors, namely city buses, light buses and pick-ups on display. More specifically, its DD6110KEV1 electric bus, DD6610EV12 electric light bus and N2 electric pickup were exhibited to showcase its latest development in the new energy sector.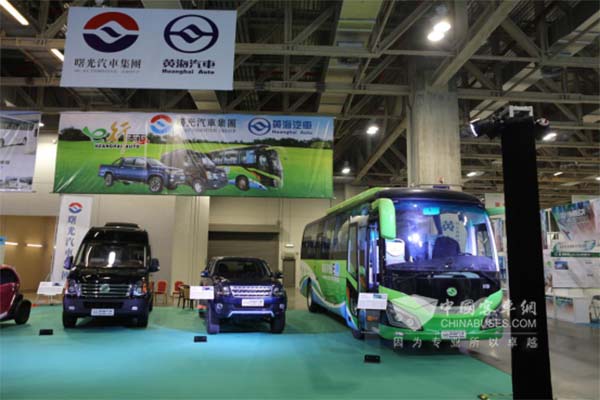 Huanghai DD6110KEV1 Electric Bus
With uniquely fashionable design, Huanghai DD6110KEV1 electric bus has incorporated a number of technological advances. Its electric driveline is able to meet extremely demanding working conditions in terms of vehicle control, electric motor control, battery management, air-conditioning management. By taking advantage of digital simulation technology, the vehicle has gone through LS-Dyna side rolling test and collision test to ensure its high safety standards.

Huanghai DD6610EV12 Electric Light Bus
Huanghai DD6610EV12 electric light bus boasts well integrated new energy vehicle body structure and electric chassis. With improved design, the vehicle has significantly improved its safety standards and reliability. Equipped with internationally advanced permanent magnetic synchronous DC motor, the bus is strong in power and boasts a maximum speed of 140km/h. After fully recharged, it can drive 280 kilometers continuously, far longer than its counterparts.

Huanghai N2 Electric Pickup
Huanghai N2 electric pickup boasts a formidably fashionable appearance, making it another fist product for the company's internationalization. Equipped permanent synchronous electric motor, the pickup has a maximum speed of 100 km/h. After being recharged, the vehicle is able to drive 250 kilometers continuously.
Editor:
Related China Bus News