50 Brilliance Caetano Airport Shuttle Buses Deliverd To Iran Mahan Air
2014-12-22 Source:www.chinabuses.org
Summarize:Recently, the airport shuttle buses of Brilliance Caetano in Iran Mahan Air delivering ceremony was held in Dalian Brilliance Auto Industrial Park, Brilliance Group CEO, President QiYumin, Mahan Air director, vice President Malakoitipour, general manager of Brilliance Caetano Mario Conde, attended the ceremony
www.chinabuses.org: Recently, the airport shuttle buses of Brilliance Caetano in Iran Mahan Air delivering ceremony was held in Dalian Brilliance Auto Industrial Park, Brilliance Group CEO, President QiYumin, Mahan Air director, vice President Malakoitipour, general manager of Brilliance Caetano Mario Conde, attended the ceremony.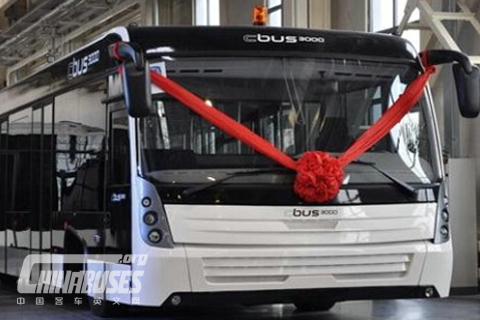 The airport shuttle buses of Brilliance Caetano

In the delivering ceremony, Brilliance Caetano company will deliver 50 sets of airport shuttle buses to Mahan Air, this is another successful overseas order of Brilliance Caetano after exported to Nigeria, Portugal. The delivery of the 50 sets of Brilliance Caetano CBUS3000 airport shuttle buses, product design and manufacturing process are from Portugal Caetano company COBUS3000. Portugal Caetano group production COBUS brand has the vehicle manufacturing technology and decades of airport shuttle buses manufacturing experience, is the world's best brand in the field of airport shuttle buses. CBUS3000 in design used the low carbon, environmental protection, lightweight, low floor technology and full aluminium body; In the manufacturing process, a large number use of locks and rivet connection ways; On the riding experience, equipped with unique pneumatic lift system ("Kneeling"system), before passenger get on or get off the bus, the rise and fall of air spring adjust height from the ground floor, make passengers feel more easily. At the same time, the bus equipped with a wheelchair , wheelchair step fixed device, handrails and barrier-free device for disables. In the future, Brilliance Group will produce pure electric airport shuttle buses.

Brilliance Group Chairman and President QiYumin sure that China has a huge market, is absolutely the grow point, but the lack of brand and technology. Brilliance took advantage of the market, introducing foreign technology and brand, and then digested, absorped and innovated, realize the localization of production, make the core competitiveness of industries.

For the future development plan, QiYumin said, Brilliance to maintain 100% growth rate in recent years, use five years to break into the world top 500 companies. At present, Dalian Brilliance automobile are working for the core technology, improve the production line, at the same time, actively expand the cooperation with the international advanced automobile manufacturing enterprises, is now cooperated with the Caetano, Ross Roca, Adria Mobil and many international first-class brand, signed a cooperation agreement, products covered by the military police, emergency guarantee, high level medical treatment, environmental engineering, new energy and large medium-sized buses, senior business travel, accessibility, airport and engineering transport 8 categories.
Editor:
Related China Bus News