Higer G-BOS Highlights the Effect of Scientific & Technological Power
2011-07-11 Source:www.chinabuses.org
www.chinabuses.org: On 21 June 2011, "Higer Intelligence" Lecture on Safety & Energy-saving was held in Zhejiang province and it is known that such lecture has once been organized in Zhejiang on 30 Nov. 2010.

On this lecture, Wang Weiqing, chairman & general manager of Zhengjiang Foreign Affairs Tourist Coach Company introduced the operation conditions of G-BOS system and the related experience. He showed that the operation of G-BOS system effectively realized real-time monitoring of vehicles and helped us to solve the problem of the idling for a long time and high fuel consumption. Kong Yiping, deputy general manager of Hangzhou Xinchen Passenger Transport Company, in charge of maintenance mentioned that almost 20000 Yuan could be saved for four buses for one year after the improving of drivers' improper operation behavior through G-BOS systems.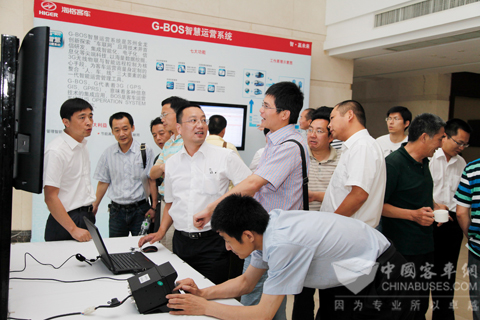 Bus operators exchange opinions about G-BOS

Fang Wenli, deputy director of Zhejiang Province Road Transport Authority pointed out that "the application of informationization is the important way for road carriers to further undertake effective management and efficient corporate management. We will fully support such activity and strive to make great achievement in safety management, energy-saving & emission-reducing and industry structure adjustment and upgrading."

Kong Yiping took such for example that they equipped four buses with G-BOS systems at first and the G-BOS engineers obtained the data from the buses, making targeted training for the drivers after one week. And then engineers collected the data again after one week. They found that the average fuel consumption has reduced almost 8% just for two weeks. Also, the fleet manager got the evidence for scientific management, leading to the obvious reducing of the general fuel consumption.
Editor:Andrea
Related China Bus News