Ankai Electric City Buses Delivered to Harbin for Operation
2017-02-27 Author: Source:www.chinabuses.org
Summarize:On February 21, a total number of 30 units Ankai HFF6109G03EV electric city buses were officially delivered to Harbin Yusheng Passenger Transport Co , Ltd (hereafter referred to as Yusheng) for operation After their arrival, they joined the bus fleet on bus route No 84
www.chinabuses.org: On February 21, a total number of 30 units Ankai HFF6109G03EV electric city buses were officially delivered to Harbin Yusheng Passenger Transport Co., Ltd. (hereafter referred to as Yusheng) for operation. After their arrival, they joined the bus fleet on bus route No.84.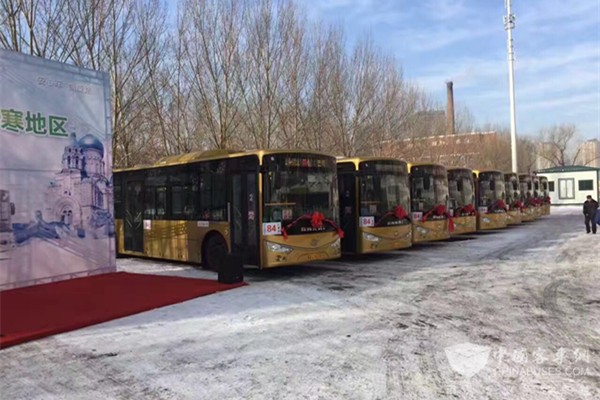 To operate smoothly in extremely cold weather is a stringent test for every electric bus. Ankai HFF6109G03EV electric city is equipped with the latest generation of battery units which can easily withstand the extreme low temperatures. When the temperature drops to -40℃, the battery units can still achieve 90% power efficiency. Currently, the performance of the battery units in low temperatures has reached the internationally advanced level.
Moreover, the main spare parts, interior materials and rubber materials have all successfully passed the tests at extreme working conditions with temperatures as high as 80℃ and as low as -40℃.
Editor:ida
Related China Bus News