www.chinabuses.org: Jointly built by Higer and Sweden-based Scania, Touring made its debut at Busworld Expo in Belgium in 2009. Since then, it has been gaining rising popularity in the high-end passenger transportation market.
Touring also has a Chinese name, "Tongling", which means taking the lead. In building the vehicle, Scania is responsible for providing the chassis, and technical support and technical standards for integrating chassis with the vehicle body. Higer, on the other hand, is chiefly responsible for designing and manufacturing the vehicle. With its uniquely eye-catching appearance and globally competitive fuel economy, Touring also offers passengers with a host of travel comforts and provides bus operators with unparalleled after-sales services.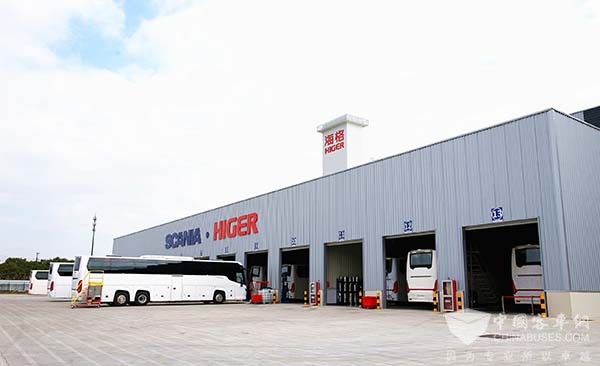 Touring has a streamlined body and is colored in pearl-white. All details of the vehicle, such as its window, front lamps, LED rear lamps, and remotely controlled luggage compartment, are well integrated. The whole vehicle instantly inspires awe and inevitably gives people a strong sense of luxury and quality.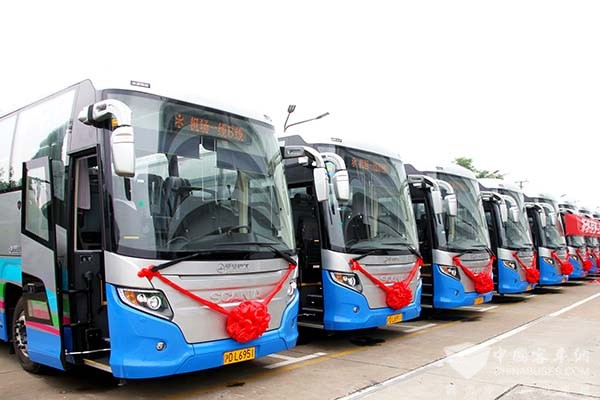 According to Higer, Touring is designed by Kristofer Hansen, a leading professor at Swedish National Arts & Design Institute. With his design, Touring is uniquely wild, visually aggressive, and full of strength. Entering the vehicle, people will immediately feel like being in a posh sedan. Its multi-functional wheel, centrally controlled instrument panel board and reflection-proof dashboard provide bus drivers with every operation detail of the vehicle. Drivers can easily control its computers, cruising mode and speed on a slope. In addition, its independent temperature control system, air-pressure adjustment on its wheel, multi-directional air-spring seats with heating and memory functions, electrically controlled sun-screen panels, rear-view mirrors, and monitoring systems have all made driving an enjoyable experience.
For the passenger area, customers can choose the colors of the floor, curtains, seas, and luggage rails according to their own preferences. The reading lamps and spacious seats make traveling no longer boring and tiresome. Its automatically controlled air-conditioning system adjusts the temperature according to the six sensors mounted at various places inside the vehicle. Its fresh air system generates 6,000m3/h fresh air inside, making sure that passengers feel being back to nature while traveling with the bus. Its multi-media players, water dispenser, refrigerator, and lavatory are just a few among Touring's travel amenities.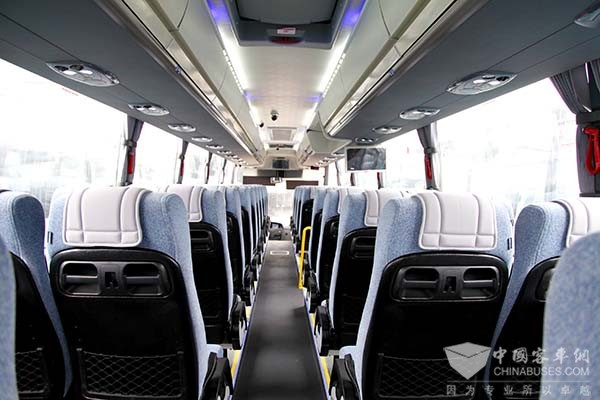 Having adopted the latest generation of chassis and 294kW Scania DC13 series 13L engine, mature HPI system and SCR system, and highly accurate electronic control system, Touring achieves impressive fuel economy and power performance. Its manual and automatic integrated transmission has eight gears, making the gear-shifting more smooth and driving more stable.
Also worth mentioning is that Touring is equipped with internationally advanced Opticruise automatic intelligent gear-shifting system and independently developed hydraulic retarder. By working together, they make sure the shifting process is smooth and accurate. Drivers are freed from some boring and repeated operation procedures and passengers are blessed with a more smooth traveling experience. In addition, its air suspension system, ESP system and tire pressure monitoring system help Touring achieve even higher safety standards.
Having brought Touring in line with ECE standards, the most stringent bus manufacturing standards in the world, engineers from Higer and Scania have helped the vehicle lose 800 kg in weight.
In 2016, 16 units Touring buses joined Shanghai Airport Bus, providing transportation services for passengers between the two major airports in Shanghai and Disney World. The bus fleet has now pushed the passenger transportation service to a new historical height in China's airport shuttle bus services. In addition, Touring has made a formidable presence in the high-end group passenger transportation, fixed route passenger transportation markets, providing more passengers with highly comfortable traveling experience.