Golden Dragon Bus Fleet: A Formidable Presence in Myanmar
2017-02-20 Author: Source:www.chinabuses.org
Summarize:In February 2017, over 20 units TRIUMPH luxury coaches were shipped from Xiamen to Myanmar Golden Dragon spent two years in researching Burmese market Considering local people's preference for bright colors, the bus maker has come up with a series of appearance designs for its products In addition, due to the poor road conditions in Myanmar, only high quality buses with strong power performance can survive and prosper in the country
www.chinabuses.org: The Republic of the Union of Myanmar, also known as Myanmar, boasts a long history and a diverse culture. When talking about the country, those beautiful temples, colorful clothes and brightly blooming flowers on women's heads immediately jump to people's mind. Now, a rising number of buses from King Long family, with their eye-catching designs, are working smoothly in various parts of the country, which have gradually become a new highlight in Myanmar.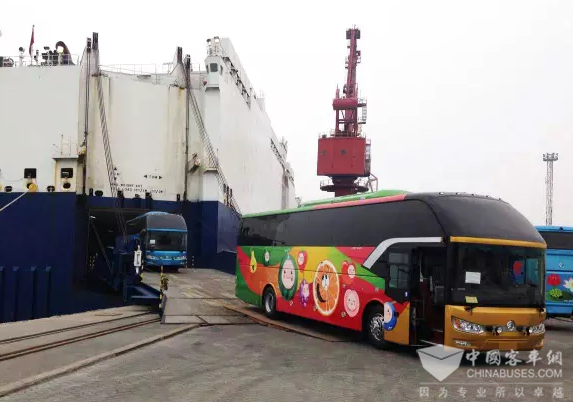 In September 2016, 11 units Golden Dragon TRIUMPH luxury coaches arrived in Myanmar. Just one week later, 15 units TRIUMPH luxury coaches were ordered by Burmese customer. Two weeks later, another 6 units TRIUMPH luxury coaches were ordered. In just three months, Golden Dragon sent its sales team and after-sales teams three times to Myanmar to gain the operation data of its vehicles and made sure they have been under the best operation conditions. In February 2017, over 20 units TRIUMPH luxury coaches were shipped from Xiamen to Myanmar.
Golden Dragon spent two years in researching Burmese market. Considering local people's preference for bright colors, the bus maker has come up with a series of appearance designs for its products. In addition, due to the poor road conditions in Myanmar, only high quality buses with strong power performance can survive and prosper in the country.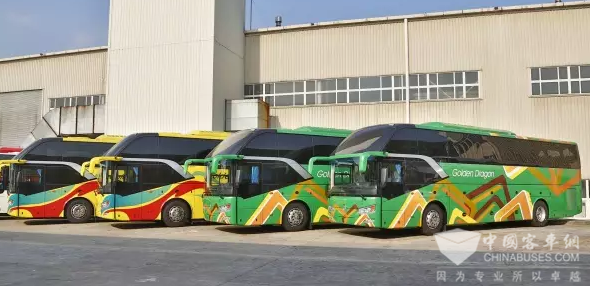 TRIUMPH, a highly mature product manufactured by Golden Dragon, boasts high adaptability and flexibility. With a long smooth operation history, it stood out and became the first choice for Burmese customers. Golden Dragon has set up a special technician team, which carried out a host of improvements and upgrading of the vehicle to better adapt to the local working conditions.
Zheng Pingjie, sales director of Southeast Asian Market, reveals that customers in the region all prefer vehicles with brightly beautiful colors. In order to meet Burmese customer's special demands, Golden Dragon spent three months in designing and painting and successfully came up with the most satisfactory designs. This has fully demonstrated Golden Dragon's formidable competitiveness in bus manufacturing industry.

In addition, various departments of Golden Dragon have been working very closely to roll out the best localized bus products. For example, the oil tank of TRIUMPH for Burmese market is put on the rear axle of the vehicle, which has increased the space of the luggage compartment by 1.3 cubic meters. TRIUMPH also adopts front epicycloid suspension and shock absorber to improve the travel comforts for passengers. ECAS vehicle elevation system, equipped on TRIUMPH, provides more convenience for passengers getting on and off the vehicle.
Now, drivers of TRIUMPH coaches in Myanmar all speak highly of the vehicles, expressing their great satisfaction with TRIUMPH luxury coaches. In 2017, Golden Dragon plans to become the top three bus brands in Myanmar.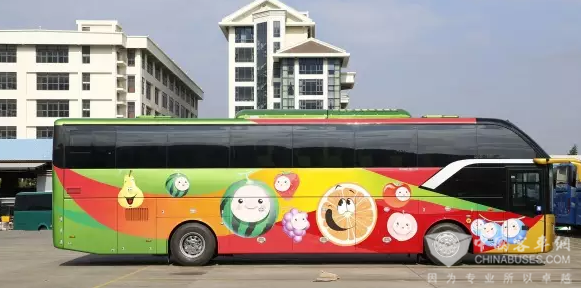 Editor:ida
Related China Bus News