Ankai Sends its Best Wishes at New York Times Square
2017-02-16 Author: Source:www.chinabuses.org
Summarize:During China's 2017 Spring Festival, Ankai, one of the leading bus brands in China, made a high-profile appearance at Times Square in New York, sending its best wishes to people from all over the world Following its debut at Times Square in 2016 Spring Festival, Ankai is fully demonstrating its confidence in representing highest bus manufacturing technologies from China in the global market
www.chinabuses.org: During China's 2017 Spring Festival, Ankai, one of the leading bus brands in China, made a high-profile appearance at Times Square in New York, sending its best wishes to people from all over the world. Following its debut at Times Square in 2016 Spring Festival, Ankai is fully demonstrating its confidence in representing highest bus manufacturing technologies from China in the global market.
Since its establishment, Ankai has been committed to producing better products and improving people's well-beings. Faced with the cutthroat competition in the global bus market, Ankai has excelled in quality, fully displaying the formidable strengths of China's bus manufacturing technologies.
In order to expand its business in the overseas market, Ankai has been making all-out efforts. From R&D of new technologies, manufacturing procedures, studies of laws and regulations in the foreign countries, and testing of its products, the company has made sure that it fully meets the international standards. Thanks to its hard work, it has successfully made its entry to a number of developed countries. All Ankai vehicles exported to the United States meet EPA13 emission standards, which require the emissions of nitrogen oxide and dust 80% and 66% lower than those set by Euro V emission standards.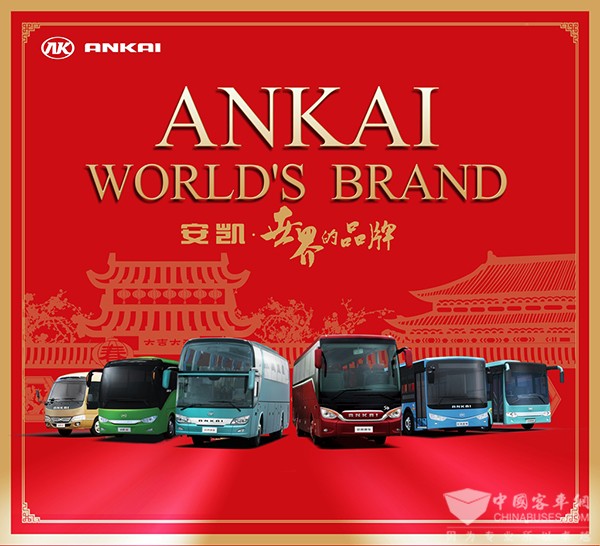 On the back of its excellent quality and impressive emission standards, Ankai has long gained a solid foothold in the global market, establishing a visible presence in over 50 countries and regions, including U.S.A., UK, France, Australia, UAE, New Zealand, Russia, Singapore, and South Africa. In such globally renowned metropolises as London, Paris, Washington D.C., Dubai, Hong Kong, Shanghai and Budapest, Ankai has successfully projected a new image for Made-in-China brands.
2016 marks the 50th anniversary of Ankai's establishment. With a spirit to pursuing high craftsmanship, the bus maker is adhering to innovation-driven and environmentally-friendly development road and providing greener and more intelligent buses and better services to customers from both home and abroad.
Editor:ida
Related China Bus News