Foton Secured an Order of 1,000 Units View Vans
2017-02-14 Author: Source:www.chinabuses.org
Summarize:www chinabuses org: Recently, Foton successfully secured a deal of 1,000 units Foton View business vans from Henan
www.chinabuses.org: Recently, Foton successfully secured a deal of 1,000 units Foton View business vans from Henan Digital Agriculture Co., Ltd. The signing ceremony was held at Foton Light Business Vehicle Department. Zhao Jianmin, Chief Director of Foton Light Business Vehicle Department and Vice President of Foton Commercial Vehicle Group, and Song Zijie, General Manager of Henan Digital Agriculture Co., Ltd., on behalf of the two parties, signed the agreement.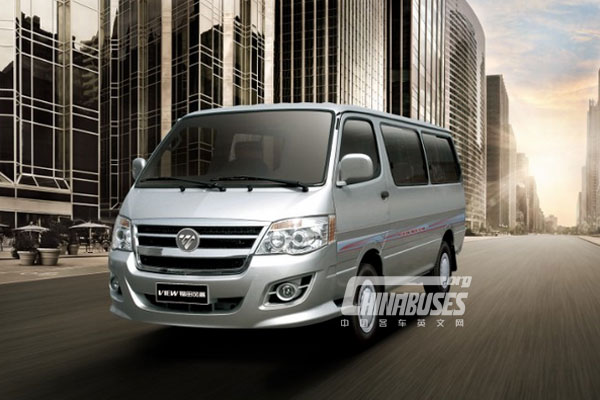 The successful deal also marks a new milestone for Foton business vehicle's expansion in logistic sector in China's agricultural industry.
Foton View V3 and V5, on the back of their well-established reputation among customers and their super low fuel consumption, successfully beat all other rivals and became the first choice for Henan Digital Agriculture Co., Ltd. Pursuing high craftsmanship, View V3 and V5, together with Foton's other van products have led the upgrading and transformation of China's van manufacturing industry. With larger loading capacity, increased space, stronger power, improved maneuverability, and higher safety standards, View V3 and V5 adopt monocoque 3H high-strength body structures and duel A-shaped wishbone suspension with torsion bar. With its torsion diameter reaching 26.5 mm, the vans have greatly improved their loading capacity. In addition, View V3 and V5 is equipped with independently developed G-series gasoline engines, which can reach a life-expectancy of 350,000 km, a maximum of shaft power of 63 kw, and a maximum torque of 112 N.m. As the engine achieves an 8% higher combustion efficiency compared with its counterparts, View V3 and V5 and cut the vehicles' overall fuel consumption by 6%, and thus help consumers save a fairly large amount of operation costs.
Boasting China's top-level R&D team and Asia's largest commercial vehicle production base, Foton is able to produce a whole spectrum of van products, including View V3, V5, G7, G9 and Toano.
Along with the robust growth of logistic industry in China's agricultural sector, vans with high reliability, fuel economy and timely after-sales services have been gaining rising popularity in China's rural areas. Thanks to the van's duel functions for loading passengers and goods, the demand for such vehicles in China has been constantly growing. Compared with other vehicles, vans have a number of attractive features, such as low fuel consumption, low repair costs, and low purchasing costs.
Editor:ida
Related China Bus News