610 Units Yutong Electric Buses Went into Operation in Kaifeng
2017-02-07 Author: Source:
Summarize:www chinabuses org: On February 3, a grand ceremony was held in Kaifeng, Henan Province, to celebrate the official
www.chinabuses.org: On February 3, a grand ceremony was held in Kaifeng, Henan Province, to celebrate the official operation of 610 units Yutong electric city buses. The move further demonstrates the local and provincial governments' commitment to developing green urban public transportation.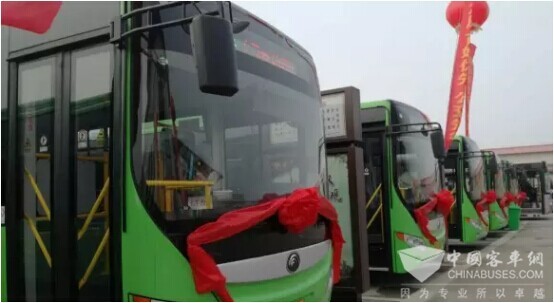 To date, Kaifeng has put 760-plus new energy buses into operation, accounting for 93.6% of its entire bus fleet. According to Liu Yi, Director of Kaifeng Transport & Transportation Bureau, the newly introduced Yutong electric city bus boasts a host of advantages, including improved safety standards, higher energy efficiency, more passenger amenities, etc.
In addition, Kaifeng Tonglida New Energy Co., Ltd. was established to better manage the new energy bus fleet, provide recharging facilities and help the city transition from green public transport to green transport.
Editor:ida
Related China Bus News