2016: Another Eventful Year for Yutong
2017-01-03 Author: Source:www.chinabuses.org
Summarize:As China's leading bus maker, Yutong witnessed another eventful year in 2016 It has made impressive achievements in the following four areas Yutong's annual sales volume reached a new high, standing at almost 70,000 units, including over 26,000 units new energy buses
www.chinabuses.org: As China's leading bus maker, Yutong witnessed another eventful year in 2016. It has made impressive achievements in the following four areas.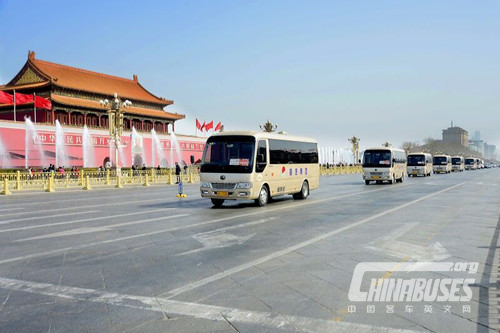 1.Yutong Leading Innovation in China's Bus Manufacturing Industry

Under the new normal of Chinese economy, China's bus industry is facing a pressing task to realize its own transformation and upgrading. Xi Jinping, Chinese president, has pointed the way for the industry, saying developing new energy vehicles are the inevitable road for China to transform itself from a major vehicle manufacturer to a powerful vehicle manufacturer in the world.
As the bellwether in the bus manufacturing industry, Yutong's annual sales volume reached a new high, standing at almost 70,000 units, including over 26,000 units new energy buses, whose growth rate exceeded 30% in 2016. For the last fourteen consecutive years, Yutong has been the champion in the sales of medium- and large-sized buses in China. From an annual sales volume of 40,000 units in 2010 to an annual sales volume of 70,000 units, it only took Yutong seven years. For several years, it has been ranking the first place in the world bus & coach sales.
In addition, Yutong's annual sales volume of new energy buses has reached 26,000 units, making a record high in not only domestic but also global new energy bus sales. Since China launched the promotional program of "Putting 100,000 Units New Energy Buses in Ten Cities Across China" in 2009, the percentage of the sales of Yutong's new energy buses has now accounted for nearly 40% of its total bus sales. This has fully demonstrated its successful transition from a bus manufacturer in China to a global bus innovator.
At China's annual NPC and CPPCC sessions in 2016, Yutong sent its new energy buses E10 to serve the delegates. On April 22, the Earth Day, Yutong released its H8 plug-in hybrid city bus and ReCtrl 3.0 system. Just one month later, at Beijing Bus & Truck Expo 2016, Yutong officially launched its third generation fuel cell buses, which is able to drive 600 km continuously after a ten-minute refill of hydrogen fuel. Currently, it boasts a wide spectrum of new energy bus products, making it well-positioned in the global bus market.
The big technological advances made by Yutong are inseparable with its huge investments in technological research and development. On October 25 last year, at Yutong 2015 Science & Technology Awarding Ceremony, its energy-saving and new energy bus key technologies research, development and industrialization won the highest prize, which is worth 3.3 million RMB.
In recent years, Yutong has been taking a number of measures to promote the commercialization of new energy buses. For example, it rolled out E-products, eased services, easy compatibility and enormous financing for electric buses, creating new dynamics for its business.
On January 8, 2016, Yutong won the highly coveted prize at National Science and Technology Conference, showing that it has made major breakthroughs in new energy bus control, system integration, etc.
Apart from its commercial success in China, Yutong has been actively involved in growing its business abroad. On October 31, 2016, the first new energy bus went on the road in Cuba. In the previous year, Yutong rolled out a tailor-made full electric bus for the European market at Busworld Kortrijk 2015, the top bus exhibition in the whole world. Later, its full electric bus has passed the trial operation in Paris and other European cities. It was also designated as the official carrier at UN Climate Change Conference 2015 held in Paris.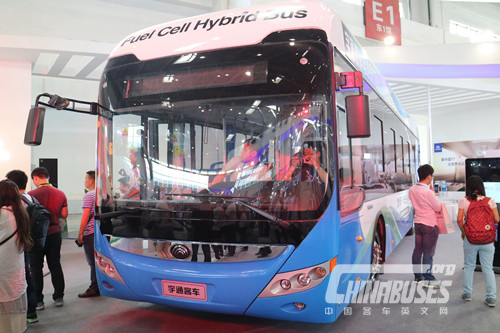 2.Yutong is leading China's manufacturing industry on the global stage.

Since its inception, Yutong has always been eyeing the global market, aiming to become not only the biggest but the strongest bus manufacturer in the whole world.
In September 2016, Li Keqiang, Chinese premier, paid a state visit to Cuba and took a special ride on a Yutong bus. After the ride, he expressed his satisfaction with the vehicle, saying it not only improves the local public transportation, but also creates more job opportunities for local people. He also praised Yutong as a model enterprise in China in the Go-Global Drive.
Currently, Yutong is exporting conventional buses, new energy buses, related technologies and its brand abroad. Its vehicles have successfully made their way to Cuba, Venezuela, Paraguay and other Latin American countries, reaching formidable market shares. In Cuba alone, Yutong's market share has reached 99.9%. In Paraguay, it reached 90%. Its fast growing business in Cuba, in particular, also well known as Cuban Business Mode, has set up a solid example for all Chinese enterprises.
In November 2016, APEC Leaders Summit was held in Peru. Yutong buses were chosen as the official carrier for the high-profile event, attracting world-wide media attention.
From 2004 to 2016, Yutong's export volume of large- and medium-sized buses has reached 45,000 units, accounting for more than one third of the total bus exports in China. In addition, its bus export volume has been ranking for the first place for many consecutive years. Now, it has become a major force in the global bus market and it has formed six major markets, including Europe & America, the Middle East, Asia-Pacific, CIS and Africa.
3.Yutong is constantly pursuing high craftsmanship.

In recent years, Yutong has been shifting its focus on pursuing high craftsmanship in its bus manufacturing process. Take Yutong ZK6805BEVG (E8) full electric bus for example, which sold 14,000 units in 2016, the vehicle has become a new fist product among its new energy products.
In October, 2014, Yutong decided to roll out a competitive 8-meter full electric city bus within six months. After several rounds of heated discussions, it decided to give top priorities to longer wheelbase, larger passenger loading capacity, low energy consumption and high reliability. With the concerted efforts of all its staff, it new electric bus has significantly improved its overall performances and thus set a new bar for the whole industry. Moreover, the protective level of its highly efficient permanent magnetic synchronous electric motor, integrated controller and standardized battery pack reached IP67. A real operation shows that its new electric bus can cut energy consumption by another 10%, which greatly boosted Yutong's sales of new energy buses.
At G20 Summit which was held in Hangzhou, Yutong T7, another representative of its high craftsmanship, made a big splash on the global high-end business vehicle market, breaking the monopoly long held by some foreign vehicle brands in China. Completely developed in line with the development procedure of a passenger car, Yutong T7 has made its appearance at a number of high-profile events, including China's V-Day Parade, China's annual NPC and CPPCC sessions, Bo'ao Forum for Asia, Shanghai Cooperation Organization Premiers' Meeting, fully showcasing China's competitive bus manufacturing technologies.
Apart from its meticulous care to the detail of its products, Yutong has also been taking great measures to improve its overall services. On September 28, Yutong Changsha Service Center was officially opened to the public after a major renovation. Currently, it is the largest and the most advanced bus service station in China. On October 27, Yutong Urumqi Service Station started operation. So far, Yutong has built a total number of nine service stations nationwide, which have greatly sharpened its overall competitiveness and improved its customers' satisfaction. In the process, Yutong has also realized its transformation from just a bus manufacturer to a comprehensive service provider.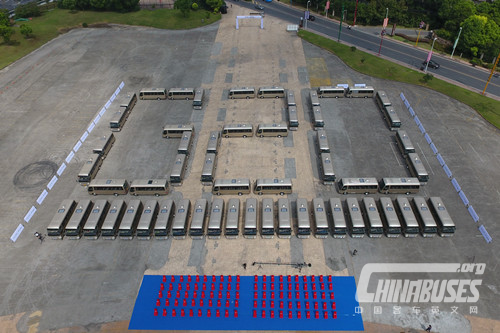 4.Yutong continues to shoulder more social responsibilities.

Not only making relentless efforts in promoting energy conservation and emission reduction, Yutong has been fully committed to improving the safety standards of school buses in China. So far, it has been actively involved in drafting China's National School Bus Safety Standards, exploring the sustainable operation mode for school buses, and promoting the safety education among bus operators, school kids and parents. Through holding a series of School Bus Safety lectures, such as Kangaroo Action, Yutong has rolled out a comprehensive school bus operation solution, which integrates reliable school buses, safety education, safety operation and care-free services. Since it launched School Bus Safety Lecture in August, 2015, the lecture has been held for over 100 times in over 20 provinces, autonomous regions and municipalities. Over 20,000 people participated in its activities. In addition, through holding a number of colorful activities among school children, such as "Yutong Happy School Kids" and "School Bus Drawing Competition", Yutong has been particularly effective in promoting school bus culture in China.
In 2016, Jiangsu province placed its largest school bus order on Yutong. In addition, Yutong became the official carrier for Canadian International School. In 2016, Yutong's sales of school buses are expected to reach 9,000 units. Its market share of 5.5-meter school bus now stands at 50%, continuing to rank the first place in the industry.
In addition, Yutong has been actively taking other social responsibilities. It has been making huge donations to its three major charity programs, including "Yutong Love", "Wing Program" and "Public Open Day". To date, the company has donated money and materials worth a total of 158 million RMB and helped over 70,000 people in need.
On July 13, 2016, at the latest issue of Fortune 500 in China, Yutong ranked the 176th place, moving up from the 207th place in the year before. Since 1997 when the company was listed on the stock market, Yutong has been realizing continued growth. In 2015, its market share in China reached 31.6% and its exports accounted for 33.1% of the total bus exports in China.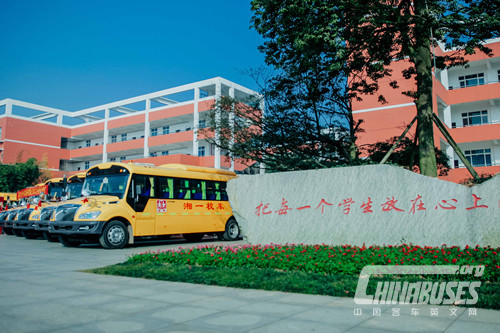 Editor:ida
Related China Bus News