Yutong Pushes China's Bus Manufacturing Technologies to Another New Height
2016-12-29 Author: Source:www.chinabuses.org
Summarize:On December 23, the 11th China Bus Influences Annual Awarding Ceremony was held in Beijing Yutong, the leading bus maker in China, became the biggest winner at the ceremony, pocketing four highly prized awards, including 2016 Top Ten News Maker in Bus Industry, 2016 High-end Business Bus Star, 2016 Intelligent Bus Star and 2016 Europe Star
www.chinabuses.org: On December 23, the 11th China Bus Influences Annual Awarding Ceremony was held in Beijing. Yutong, the leading bus maker in China, became the biggest winner at the ceremony, pocketing four highly prized awards, including 2016 Top Ten News Maker in Bus Industry, 2016 High-end Business Bus Star, 2016 Intelligent Bus Star and 2016 Europe Star. "Focusing on Customers and Creating More Values" has long become part of Yutong genes, readily visible at every detail of Yutong's bus research & development, manufacturing, sales and services.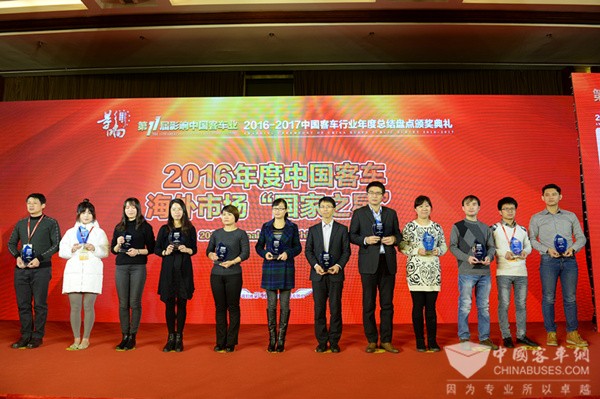 China buses industry overseas "National Star"
Yutong: 2016 Top Ten News Maker in Bus Industry
On June 20, 2016, Yutong participated in Cuba Industrial Exhibition held in Harvana. As a long-term cooperative partner of the Ministry of Industry in Cuba, Yutong brought three popular bus models on display, attracting wide public and media attention. For all these years, Yutong has made a formidable presence in Cuba and Latin America. Many people in the region now are made fully aware of the superiority of products made in China. Yutong's fast expansion in Cuba, also known as "Cuba Business Mode", has been widely studied and praised by the bus industry across the world. Thanks to all these, Yutong was awarded 2016 Top Ten News Maker in Bus Industry.
Yutong: 2016 High-end Business Bus Star
In the past, China's high-end midi-coach market was entirely dominated by a handful of foreign brands. To change the situation, Yutong introduced T7, a vehicle fully developed in line with the development procedure of passenger cars. Through the concerted efforts of Yutong's various departments, Yutong T7 has made impressive achievements in noise reduction and insulation. With meticulous care to details, Yutong T7 has brought China's bus manufacturing technologies to another historical height, representing the highest craftsmanship of China's bus industry.
Yutong: 2016 Intelligent Bus Star
Constantly increased intelligence is another highlight of modern buses. On August 29, 2015, Yutong rolled out the world's first driverless bus, Yutong ZK6105CHEVG2 electric bus. Without any human assistance, the vehicle successfully went through 26 traffic lights on real road operation conditions. Moreover, it accomplished such difficult tasks as following other vehicles, changing lanes, surpassing other vehicles, making quick and correct responses to traffic lights, and making stops at assigned positions. Now, Yutong is fully committed to applying more intelligent technologies to buses and developing driverless buses, which can automatically detect the changes of road conditions and make travel plans accordingly.
Yutong: 2016 Europe Star
Europe is home to several internationally famed bus manufacturers, representing the highest end of global bus market. Before entering the market, Yutong spent several years in forming a special team consisting of over 200 people who are made in charge of developing new vehicles for the European market. Thanks to its thorough market investigation and full preparations, Yutong successfully passed EU WVTA (Whole Vehicle Type Approval). To date, it has realized a sizable sales volume in many European countries, including UK, France, Norway, Macedonia, etc. So far Yutong's accumulated sales volume in Europe stood at 2,480 units. Yutong ZK6121HQ, alone, realized a sales volume of 350 units in Europe, becoming the undisputed Bus Star in Europe.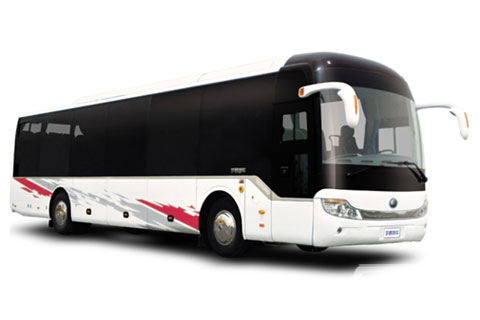 Yutong Bus ZK6121HQ
Jointly organized by Chinabuses.org and China Civil Engineering Association Urban Public Transportation Branch, the 11th China Bus Influences Annual Awarding Ceremony was witnessed by representatives from bus operating and manufacturing sectors as well as related industries. While reviewing the achievements made by China's bus industry in the past year, all participants are looking forward to a brighter future and seeking a sound and sustainable development of the industry.
Editor:ida
Related China Bus News