Foton AUV Buses Designated as Official Vehicles for International Low-Carbon Expo
2016-12-01 Author: Source:www.chinabuses.org
Summarize:On November 27, a grand ceremony was held in Zhenjiang to celebrate the delivery of a batch of Foton AUV buses to the organizing committee of the first China International Low-Carbon Technology Expo 20 units Foton AUV BJ6127 plug-in hybrid intercity buses and 25 units Foton EV200 electric sedans will be put into service for 3,000 participants during the expo
www.chinabuses.org: On November 27, a grand ceremony was held in Zhenjiang to celebrate the delivery of a batch of Foton AUV buses to the organizing committee of the first China International Low-Carbon Technology Expo. 20 units Foton AUV BJ6127 plug-in hybrid intercity buses and 25 units Foton EV200 electric sedans will be put into service for 3,000 participants during the expo.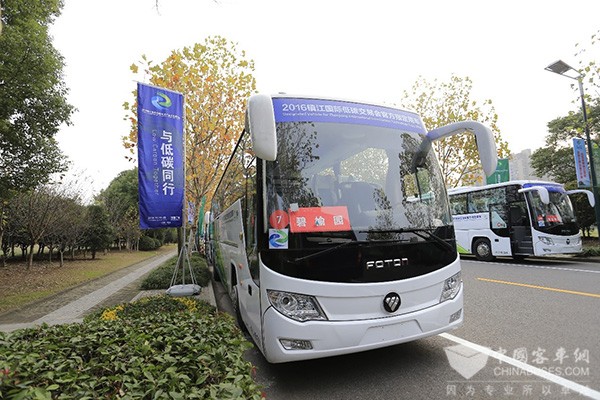 To ensure the smooth operation of the 45 units vehicles, Beijing Automotive Industry Corporation (BAIC), Foton AUV's parent company, has set up a special team to manage and dispatch the vehicles. With a backup plan similar to that used in G20 Hangzhou Summit, each vehicle will receive a thorough PDI checkup after finishing their tasks every day and it has a designated service station with spare parts provision and maintenance team ready to deal with any emergencies.
As one of the fist products of Foton AUV, BJ6127 plug-in hybrid intercity bus is equipped with Battery Management System (BMS) independently developed by Foton, long-distance temperature control technology and patented e-AIR intelligent cooling circulation system. The vehicle's batteries not only achieve higher fuel economy, but also boast longer life expectancies. In addition, customers can choose different battery packs and fast or slow recharging mode according to their own needs and requirements.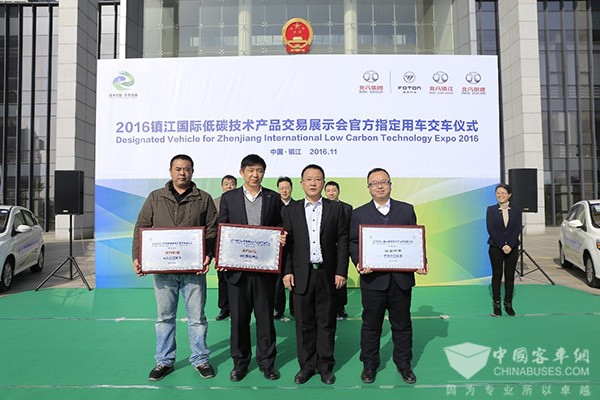 BJ6127 plug-in hybrid intercity bus has been awarded as a model new energy bus to combat PM2.5 thanks to its zero emission standard. Compared with a diesel powered bus, it can also help bus operators cut operating costs by 70%. After being recharged, the vehicle is able to drive 90 kilometers continuously. Using intelligent braking system, the bus has significantly cut its overall energy consumption. For each kilometer, it only consumes one kilowatt-hour (kW•h) electricity. With 4D body protection technologies, the vehicle achieves unbeatable safety standards.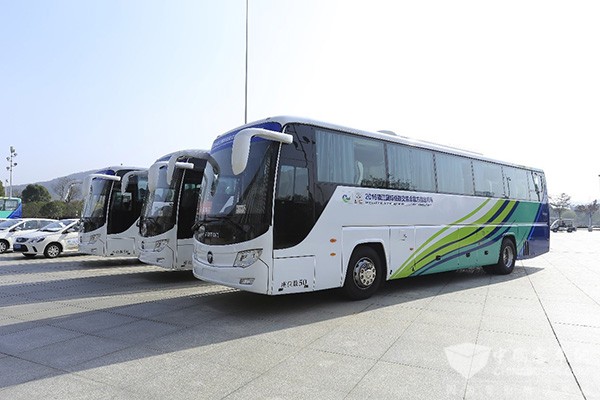 "As the world's No.1 commercial vehicle brand, Foton has been serving a number of state-level receptions of overseas distinguished guests, such as APEC meetings, China's V-day Parade, and Hangzhou G-20 Summit. For all these high-profile events, Foton has successfully accomplished its transportation tasks", said Han Peng, Brand Director of Foton AUV Business Department at the delivery ceremony.
Hosted by Zhenjiang municipal government, the first China International Low-Carbon Technology Expo is themed with "Innovating Technologies, Sharing Low-Carbon Life".
Editor:ida
Related China Bus News